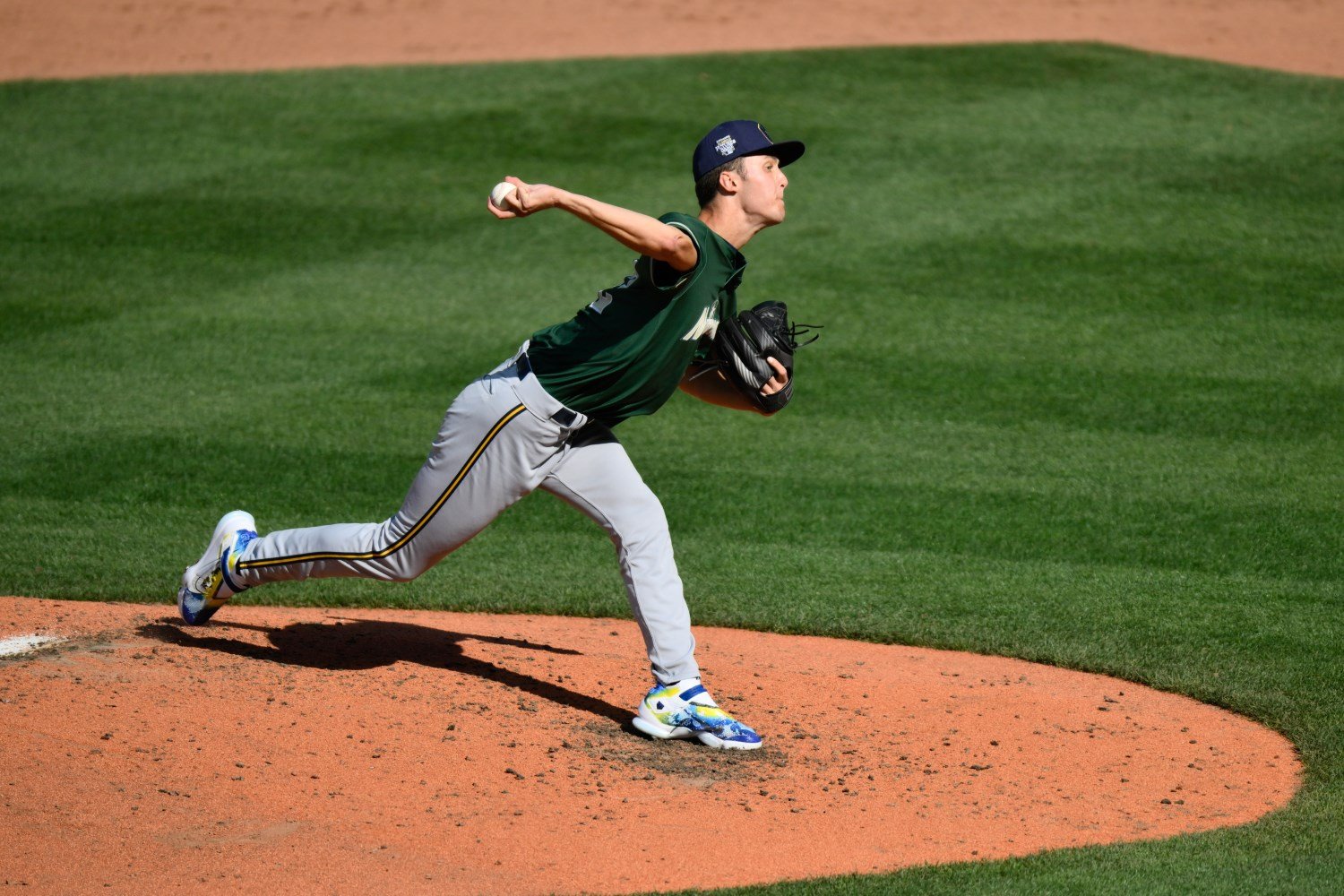 Image courtesy of © Steven Bisig-USA TODAY Sports
Let no one say that Matt Arnold didn't make any effort to upgrade the Milwaukee bullpen at the trade deadline. He went and got Andrew Chafin, with an eye toward lightening the burden on Hoby Milner against key lefties. That trade was a strange one, though, because Arnold dealt away Peter Strzelecki, who started the season as such an important part of the bullpen. Arnold was betting on making his bullpen's high-leverage unit better, rather than making the overall relief corps deeper.
Now, it looks like he might not have even achieved that. It was Chafin who (again) imploded Friday night, nearly blowing a healthy late lead. Retiring only one batter, Chafin issued a walk and allowed two screaming doubles, forcing Craig Counsell to go to Devin Williams in what had been a comfortable 9-4 game just moments earlier. As sometimes happens when he's called upon to get warm unusually quickly and enter mid-inning, Williams was not his best self, either. The Crew was lucky to escape with the win, and it was as much thanks to Sal Frelick's defensive work as to anything the bullpen did.
Hoby Milner and Abner Uribe did turn in tidy and impressive innings of middle relief Friday night, and Uribe ought to be right on the verge of sliding into the secondary setup role behind Williams and Joel Payamps. Even then, though, those pitchers have both been just shaky enough when given high-leverage chances that they're unlikely to enter Counsell's circle of trust in September.
All of that could lead the team to consider calling up their top pitching prospect, Jacob Misiorowski. After his latest start with Double-A Biloxi, Misiorowski has everyone dreaming a little on his long-term upside in that role, but for the final month of 2023, he could have huge utility as a fireman in the heat of a pennant race. If the front office has faith that he wouldn't vitrify and crack in that heat, they should give him a chance to slot into the role Devin Williams assumed late in 2019.
No one in the Brewers organization, and hardly anyone in baseball, can top Misiorowski for sheer stuff. His huge 6-foot-7 frame, elite velocity, and ability to extend at release and spin the ball make his fastball overpowering, and his slider is one of the best in Minor League Baseball. His arsenal runs deeper than that, but in a late-season short relief capacity, that heater and slider could be sufficiently devastating. It's the obvious comp, and far from a perfect one, but Misiorowski really does loosely resemble a right-handed Josh Hader.
Much of the question of whether to bring up a hurler like this rests on makeup. Even in the minors, Misiorowski has had trouble throwing strikes. Before striking out 12 in six scoreless frames this week, he'd posted a 7.80 ERA in his first four starts with Biloxi. In those starts, he either walked or plunked over a quarter of the batters he faced. If he continues to look locked in next time out, he could really bolster his case to be called up when rosters expand on Sep. 1. If he reverts to spraying the ball all over the place, it probably won't work. In either case, though, the front office needs to evaluate Misiorowski's mental readiness for the challenge of MLB, where the stakes will be high the rest of the way. If they believe in him on that score, they should give him a shot at deepening the bullpen for the stretch drive.
Think you could write a story like this? Brewer Fanatic wants you to develop your voice, find an audience, and we'll pay you to do it. Just fill out this form.
MORE FROM BREWER FANATIC
— Latest Brewers coverage from our writers
— Recent Brewers discussion in our forums
— Follow Brewer Fanatic via Twitter, Facebook or email