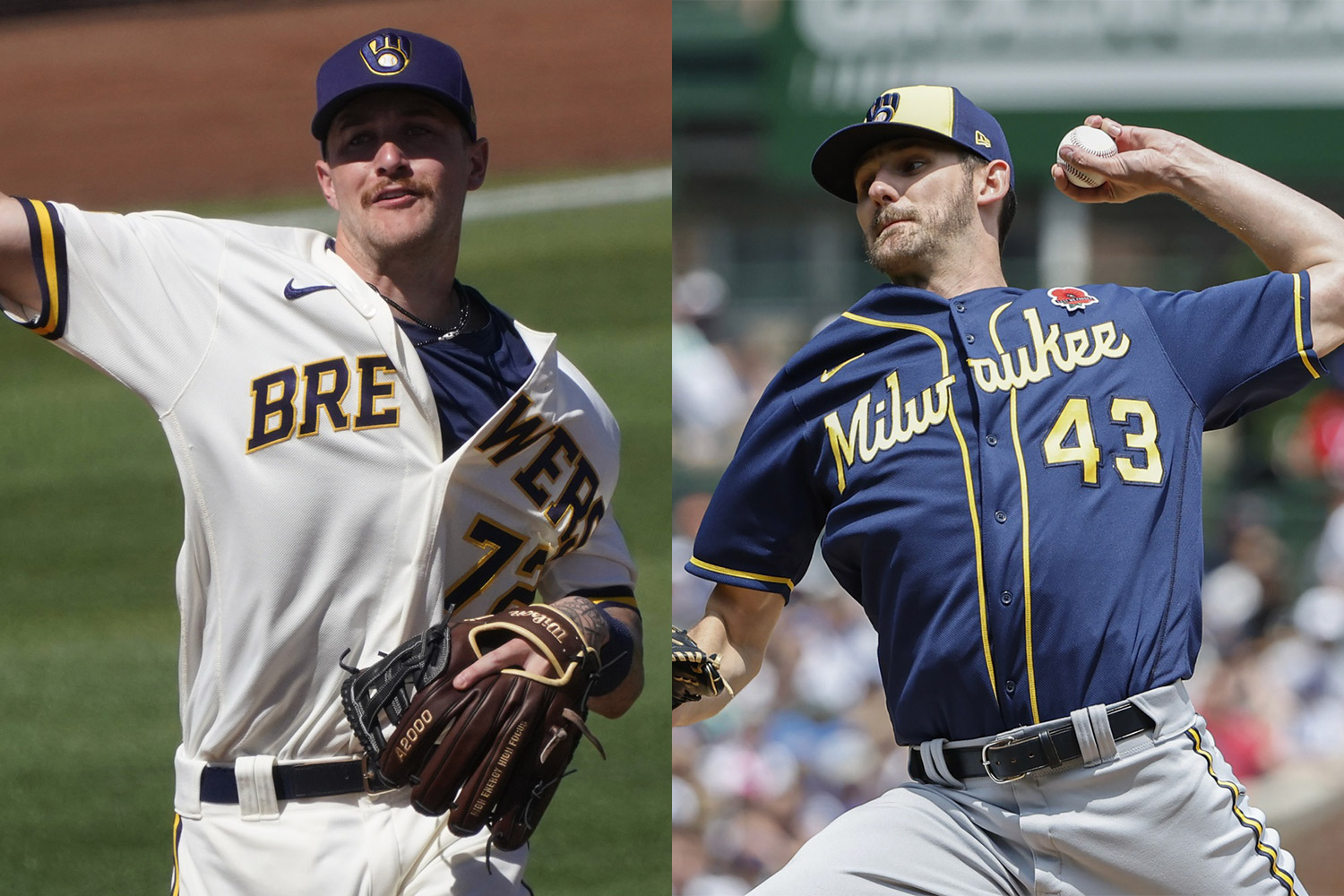 Image courtesy of Brewer Fanatic
Ethan Small - LHP
Ethan Small dominated most of his minor league career. Then came 2022, where his ERA ballooned to a career-high 4.46, plus a 7.71 ERA in two major league starts. Before 2022, his highest ERA was 2.06 in Nashville during the 2021 season. He rebounded when shifted to the bullpen after he gave up 14 runs in 8.1 innings over two starts, but the Brewers were hoping for a rotation mainstay with a first-round pick.
Small has to prove that the rough 2022 season in the rotation was a fluke and not the real Ethan Small. If he can't put it together in a major league rotation, he could still be very valuable in the bullpen (he is cost-controlled for several more seasons), but it won't be what many Brewer fans hoped for after Small dominated minor league hitters.
Tyler Black - IF/OF
Tyler Black was a huge offensive asset when he was on the field. He proved he could be more than just a second baseman by seeing time in center field, third base, and left field between the Wisconsin Timber Rattlers and the Glendale Sky Scorpions in the Arizona Fall League.
Black's problem, though, was he was only in 64 of Wisconsin's 149 games and 17 of Glendale's 28. In other words, he played in less than half of the possible games for the two teams due to injuries. Black will need to stay healthy and play more often in 2023 to prove he can be a major league caliber player.
Hendry Mendez - OF
Mendez was signed for $800,000 – a significant sum of cash equivalent to a mid-second-round pick. He's become a physical specimen with some unreal OBP skills. That's all well and good, but he only posted a .244 batting average and a .318 slugging percentage, and he didn't exactly set the basepaths on fire (7-for-15 in stolen base attempts). Mendez isn't prone to missing the ball - he walks nearly as often as he strikes out - but struggling to put good wood on the ball in the lower minors often translates to increased problems as the competition improves in A+ and AA ball.
He needs to prove that he can bash the ball a lot more than a .244 average and hit more than five homers in 105 games, or he may be a bench asset at best.
Jeferson Quero - C
After his 2022 season, it seems odd to think Quero has something to prove in 2023, but he does. Quero needs to prove he will warrant a 40-man roster spot in December. He moved up the ladder and split time between Carolina and Wisconsin in 2022, posting better offensive numbers at A+ than in full-season A ball. He's a promising prospect defensively behind the plate. But so was Mario Feliciano, who ultimately ended up on waivers and claimed by Detroit.
Feliciano never seemed to get back on track after the 2020 minor-league season was wiped out by COVID-19. Quero may not deal with a season lost to a pandemic, but he is going to have to shake off the ghost of prospects past.
Brice Turang - IF
Turang rebounded in 2022 after struggling a bit at the plate in 2021. He also could end up the Brewers' Opening Day second baseman due to the trade of Kolten Wong this offseason. Turang will need to prove he can handle major league pitching, which may require patience from the Brewers. During his time in the minors, he has needed time to adjust after being promoted mid-season in 2019 and 2021.
Turang has defense, on-base skills, and speed. One can do far worse, but any first-round pick comes with lofty expectations.
Hedbert Perez - OF
Another one-time highly-hyped signing, Hedbert Perez, has shown he can hit for power. That said, even in a promising 2021, his on-base skills were low. In 2022, he was hardly above the Uecker line, although he improved slightly over his 2021 campaign. That said, Perez is at risk of becoming an organizational-type player, given the emergence of Chourio, Jace Avina, Sal Frelick, Garrett Mitchell, and Joey Wiemer.
Perez signed in 2019 and missed out on playing during the 2020 season due to the pandemic. That said, he's still only 19 years old, and there's plenty of time for him to develop. But he has to show he's not just a two-for-three when it comes to being a three true outcome player.
Robert Gasser - LHP
Gasser has pitched well throughout his minor league career. That said, he is the only remaining player the Brewers received in the Josh Hader trade last August, and that means the weight falls on him to prove he was worth trading the best closer in baseball during a pennant race. He split time between Biloxi, where he dominated, and Nashville, where he struggled some.
That said, 2022 was Gasser's first full minor league season, and he's still pretty young (23). But when a fan favorite is traded, the guys who come back have to prove it was worth the deal.
Think you could write a story like this? Brewer Fanatic wants you to develop your voice, find an audience, and we'll pay you to do it. Just fill out this form.
MORE FROM BREWER FANATIC
— Latest Brewers coverage from our writers
— Recent Brewers discussion in our forums
— Follow Brewer Fanatic via Twitter, Facebook or email