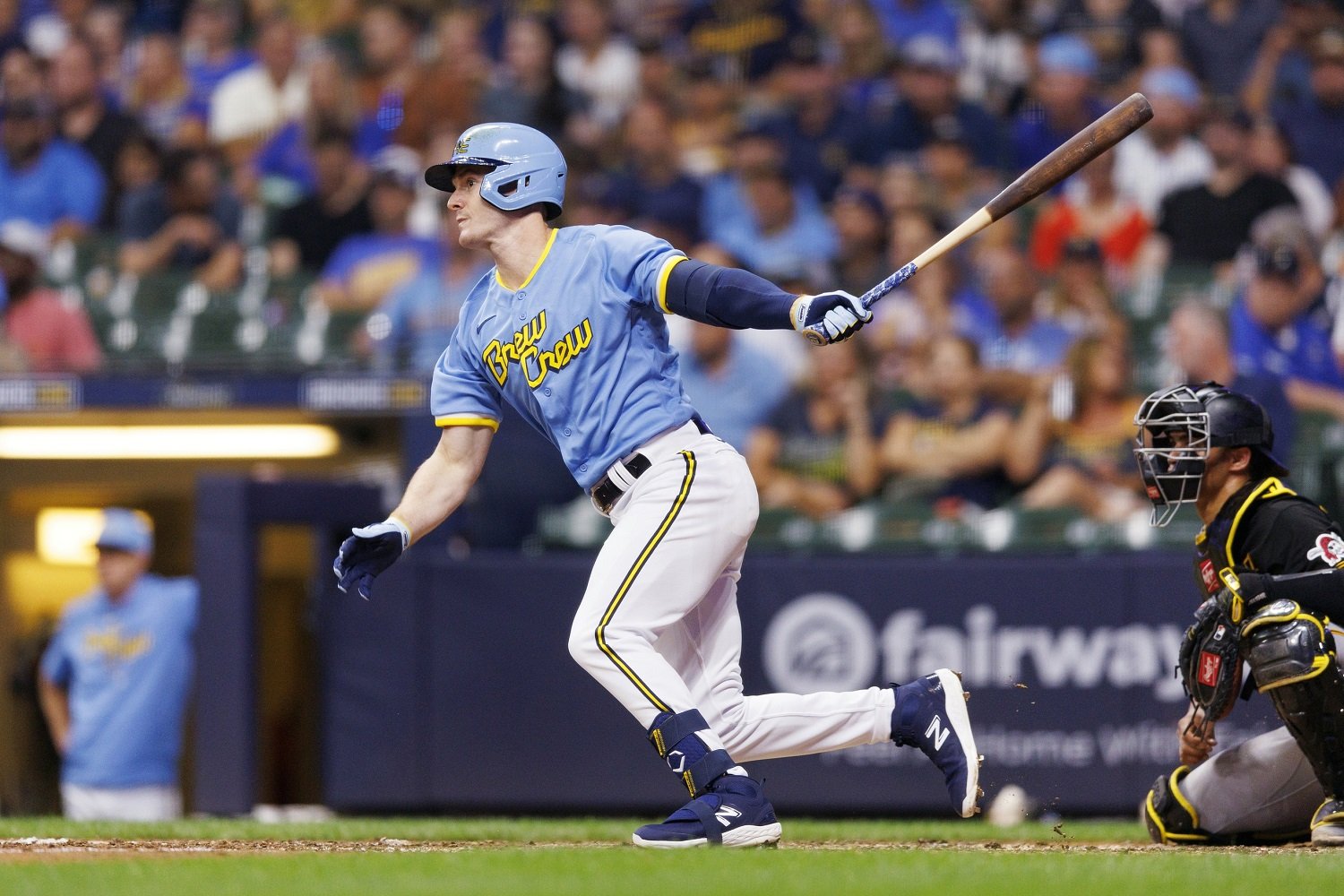 Image courtesy of Jeff Hanisch-USA TODAY Sports
Last year, then-President of Baseball Operations David Stearns's biggest move was to deal Josh Hader to the Padres for a four-player package. It didn't go well, with the Brewers missing the playoffs by one game. No such major deal happened this offseason. But the five smaller deals may matter a lot. Let's look them over.
Brewers trade minor-league SS Jhonny Severino to Pirates for 1B Carlos Santana
Severino was falling behind Juan Baez and others in the ACL, and while he flashed power, his OBP skills were a little iffy (one walk in 48 at-bats). Getting Carlos Santana to bolster first base in return was an excellent return for what was, for all intents and purposes, a bench player in the low minors.

Grade: A
Brewers trade RHP Justin Jarvis to Mets for OF/1B/DH Mark Canha and cash
Jarvis had a breakthrough season in 2022, and the early part of 2023 saw him continue to dominate in AA before falling off in AAA. Canha filled the need to bolster right field with the lack of offense from Blake Perkins, Tyrone Taylor's struggles this season, and Rowdy Tellez's freak injury that set his return back four weeks. Dealing Jarvis, who at one time was among the Brewer Fanatic Top 20 Prospects, may sting, but Canha fills a need, and none of the top prospects in the system were moved.

Grade: B
Brewers trade RHP Peter Strzelecki to Diamondbacks for LHP Andrew Chafin
Chafin gives the Brewers a second reliable left-handed pitcher, a need given Justin Wilson's injury setback. With eight saves already, Chafin has some late-inning experience that could help the team out when Devin Williams needs a day off. Strzelecki, whose four-pitch arsenal helped the Crew put an early-season dagger into the Cardinals, is a relatively high price to pay given his team control and solid 2022, though.

Grade: B-
Brewers trade C Alex Jackson to Rays for RHP Evan McKendry
This deal likely clears the way for Jeferson Quero to head to Nashville, following a superb offensive season. Quero's defense has drawn rave reviews, but his bat has also been superb (.871 OPS, including 31 walks in 233 at-bats), even if overshadowed by Jackson Chourio's rise. Getting McKendry gives the Brewers a replacement of sorts for the traded Justin Jarvis.

Grade: A
Brewers trade IF Luis Urias to Red Sox for RHP Bradley Blaylock
One-time extension candidate Luis Urias had his season derailed by an Opening Day hamstring injury, and he never really recovered. The development of Andruw Monasterio made a trade the best thing for both Urias and the Brewers, with Urias getting a fresh start, and the Brewers getting another potential rotation piece, given the struggles of Stiven Cruz and Cameron Wagoner.

Grade: B-
Overview
The Brewers may not have made big splashes at the trade deadline, but they also avoided the twin pitfalls of emptying the farm system and blowing up team chemistry. While the results for the 2023 season are yet to be determined, these deals could already be improving the Brewers for the medium-to-long term.

Overall Interim Grade: B
You've had four or five days to take it all in, see a few more Brewers games, and decompress. It's still too early to evaluate, but what are your early thoughts on what the Brewers did at the deadline? 
1