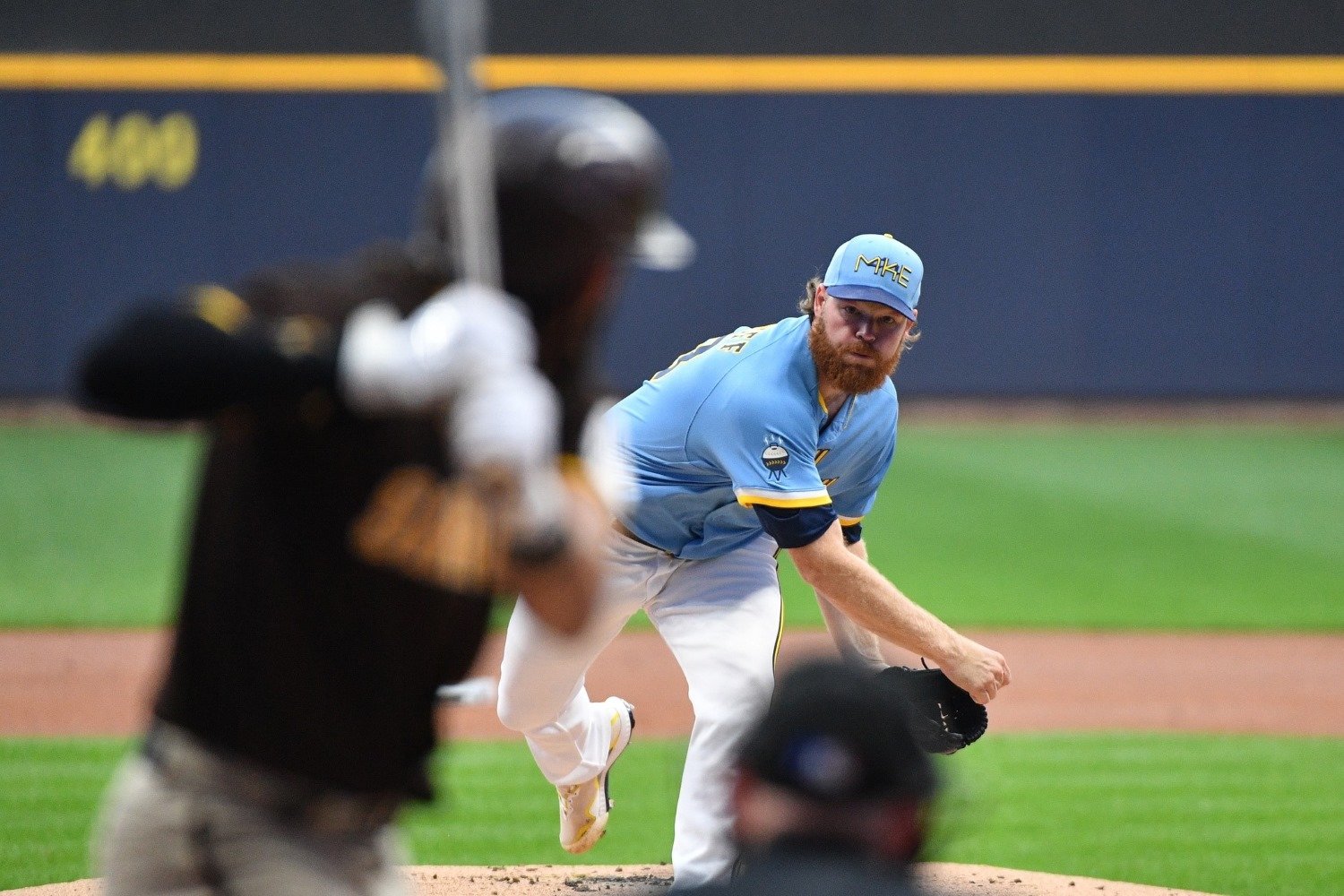 Image courtesy of © Michael McLoone-USA TODAY Sports
The San Diego Padres limped into town this weekend like an old dog needing to be put down. It's not the fact that the Brewers won their sixth straight game Friday night that prompts me to say this, because their opponent wasn't up to the challenge. Rather, it's the way they won, and some of the contributors who got a chance to remind everyone how dynamic they are.
Rowdy Tellez is not fully restored to the 2022 version, and we probably shouldn't expect him to be so at any point this year. With his first home run since returning from the injured list, though, he reminded everyone how deep this lineup starts to feel if some of the guys in the middle of the order warm up enough to start consistently driving in Christian Yelich and William Contreras. Carlos Santana, Willy Adames, and Tellez have each recently demonstrated that they still have access to their considerable power, and with Yelich (.371) and Contreras (.353) running strong on-base percentages in front of them, that's a recipe for quick runs.
The really dazzling thing about Friday's win, though, was the pitching. Brandon Woodruff pulverized any remaining doubts about his status not only as fully recovered from the injury that cost him half the season, but the ace of this rotation, with 11 strikeouts and a lone solo home run allowed in six innings, all against a good Padres offense. Then, Abner Uribe and Trevor Megill really put on a show. The 24 fastest pitches of the night were thrown by those two, ranging from 99.3 up to 102.1 miles per hour, and Woodruff himself came in 25th--not with an overheated first-inning missile, but with a fastball to strike out Fernando Tatis in the fifth frame.
Add these guys and their overwhelming upside to a pitching staff that had already carried the team this far--with Corbin Burnes, Freddy Peralta, Devin Williams, and Joel Payamps leading the way--and you have the most formidable corps of arms of any team in baseball. It's frightening to think that they could still add someone like Jacob Misiorowski to that mix, but Friday night only underscored that they don't even need to do so. Their depth is staggering. Plenty of teams would be thrilled to insert Adrian Houser into their rotation, or Elvis Peguero or Hoby Milner into their bullpen. On the Brewers, those guys are on the fringes.
That group is finally convalescing and coalescing, at just the right time, but the team was able to survive even while they were well short of full strength thanks to one of the best defenses in baseball. If Adames continues to pull out of his funk at the plate, it further alleviates the pressure on that group, because he can remain the everyday shortstop, and Brice Turang can stay at second base, where he's a stellar defender. If Tellez can meet the high threshold to be a useful DH, then Santana can play every day at first base, where he's a significant defensive upgrade. The more those guys hit, the less the team needs to swap the defensive prowess of Brian Anderson for the extra lineup depth of Andruw Monasterio. Tellez settling in as a platoon DH would make it easier for Craig Counsell to optimize the balance between offense and defense in his outfield options. We could see a lot of creative mid-game substitutions down the stretch involving Sal Frelick, Joey Wiemer, Tyrone Taylor, Mark Canha, and Blake Perkins.
In defiance of conventional wisdom, I'm a firm believer that (if anything) high-powered offense is the key to October success. In general, it's better to bet on the best team in any playoff matchup, but to keep in mind that the margins are shockingly thin and that quality will not always win the day. Certainly, there's no one formula for converting playoff appearances to World Series rings. Just as certainly, there are teams who can be much better than the Brewers when they're at their very best.
Still, at this moment, I'm not convinced that anyone would feel good about their chances against this team in a short series. The sheer stuff of the pitching staff, especially with the back end of the rotation and the underbelly of the bullpen trimmed away, is as good as that of any team in baseball. Much can change in six weeks, but the Brewers are currently as healthy as a team can hope to be at this time of year, and though they won't win as many games as the 2018 or 2021 clubs or have the offensive firepower of the 2011 team, this feels like a team with as good a chance as any in recent Brewers history to fly their first-ever World Series championship flag.
Think you could write a story like this? Brewer Fanatic wants you to develop your voice, find an audience, and we'll pay you to do it. Just fill out this form.
MORE FROM BREWER FANATIC
— Latest Brewers coverage from our writers
— Recent Brewers discussion in our forums
— Follow Brewer Fanatic via Twitter, Facebook or email