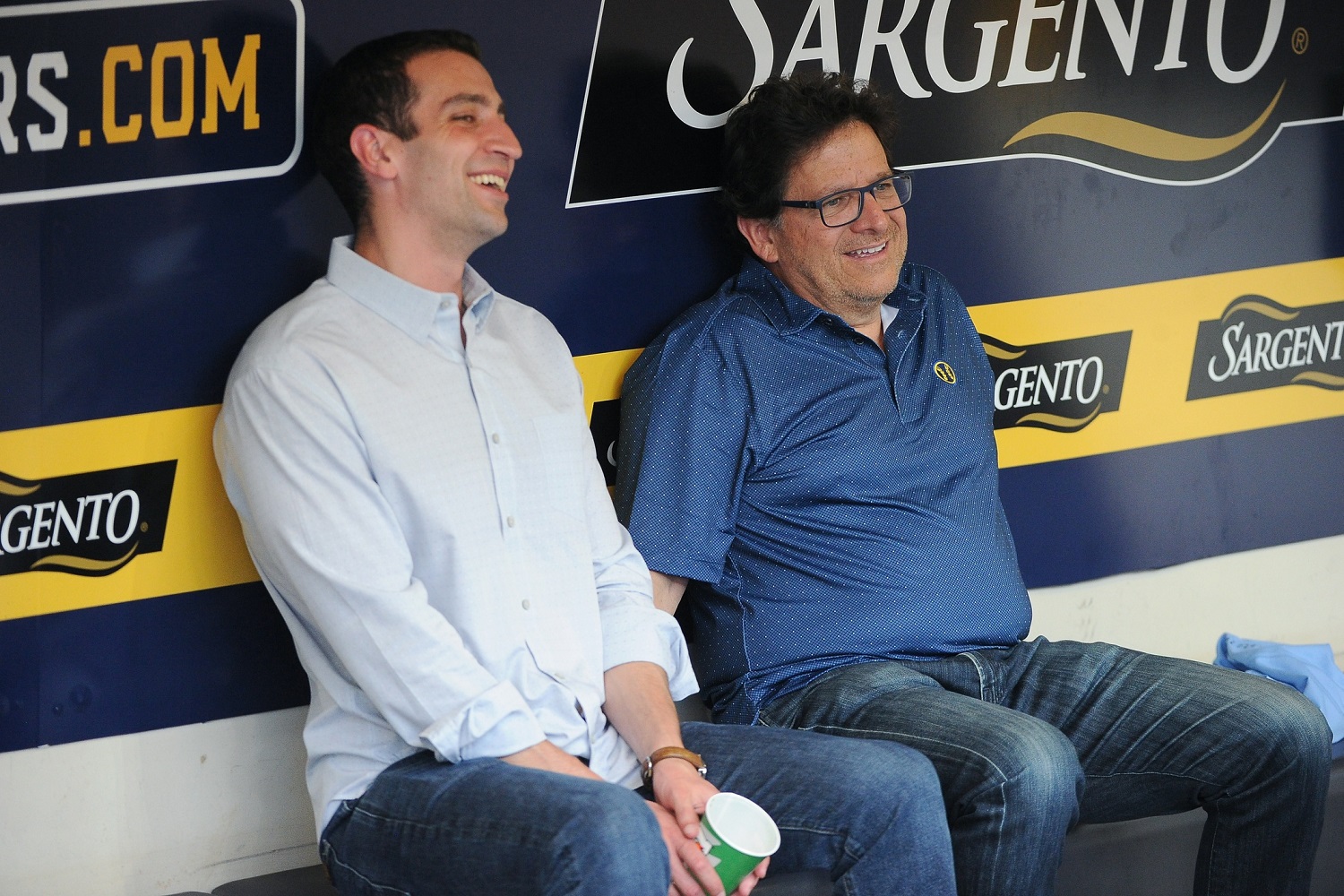 Image courtesy of © Michael McLoone-USA TODAY Sports
---
This is part 5 of a series of stories detailing the payroll situation for the Milwaukee Brewers at a back-of-the-napkin level. Previously, we looked at the total salaries of the infielders, outfielders, rotation, and bullpen, and came up with a $125M commitment for next year. Today we look at how much more than that they can expect to spend. 
---
To get a sense of where the Brewers might go with their payroll, it might help to look at where they've been. 
According to Cot's Baseball Contracts, here is what Milwaukee has spent on payroll over the last six years, along with where it ranked in MLB:
 2022 - $131,930,160 (19)
 2021 - $ 99,316,127 (19)
 2020 - $105,842,057 (22) (prorated)
 2019 - $122,530,400 (17)
 2018 - $ 90,964,571 (26)
 2017 - $ 63,061,300 (30)
You'll notice that last year's $132M payroll was the high watermark for the franchise but ranked just 19th in Major League Baseball. Nineteenth is respectable, given that Milwaukee is the 40th largest metropolitan area in the USA. But that doesn't give much hope that the team will surpass that level.
However, there is also no clear trend. We don't see a steady 5-10% increase in payroll. We see a franchise investing in payroll when it senses an opportunity to make some noise, such as coming off of an NLCS appearance in 2018.
This year's team is not coming off an inspiring postseason run, but there are reasons to invest. Our analysis of the team's rotation payroll showed that the core of the team is on track to hit free agency after the 2024 season, so this generation of Brewers players has two years left in their competitive window.
Or maybe just one year. At the trade deadline, we just saw that David Stearns isn't averse to trading away star players a year before they become free agents in the hopes of getting back assets that can extend that competitive window.
If payroll stays steady, the Brewers will have limited room to maneuver to add free agents. Here is what our back-of-the-napkin payroll looked like: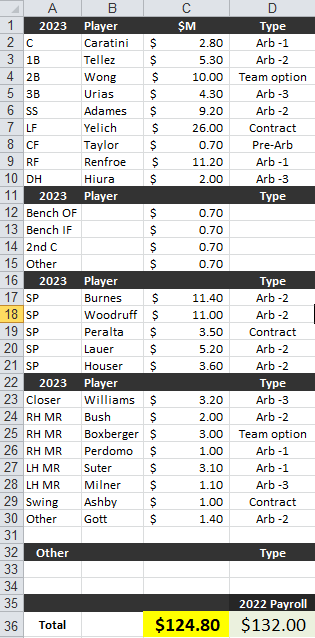 If they Brewers don't raise payroll, they have about $7M to add a big bat at the designated hitter spot or otherwise improve the team. They could decide not to pick up the option for Kolten Wong, but that would only free up $8M (because he has a $2M buyout) and also create another gap to fill.
They could also make some other moves to add a few million dollars, such as non-tendering Adrian Houser or sacrificing a bullpen arm. A few million here, a few million there, and pretty soon you're talking about real money. But those also create some gaps that need to be filled. 
The bottom line: if ownership doesn't boost payroll, or Stearns doesn't move one of the team's more significant salaried players off the roster, their options are limited to improve.
Or maybe you see some options that they should look at closer? You'll get to create your plan and share it with us tomorrow. Stay tuned….
Think you could write a story like this? Brewer Fanatic wants you to develop your voice, find an audience, and we'll pay you to do it. Just fill out this form.
MORE FROM BREWER FANATIC
— Latest Brewers coverage from our writers
— Recent Brewers discussion in our forums
— Follow Brewer Fanatic via Twitter, Facebook or email