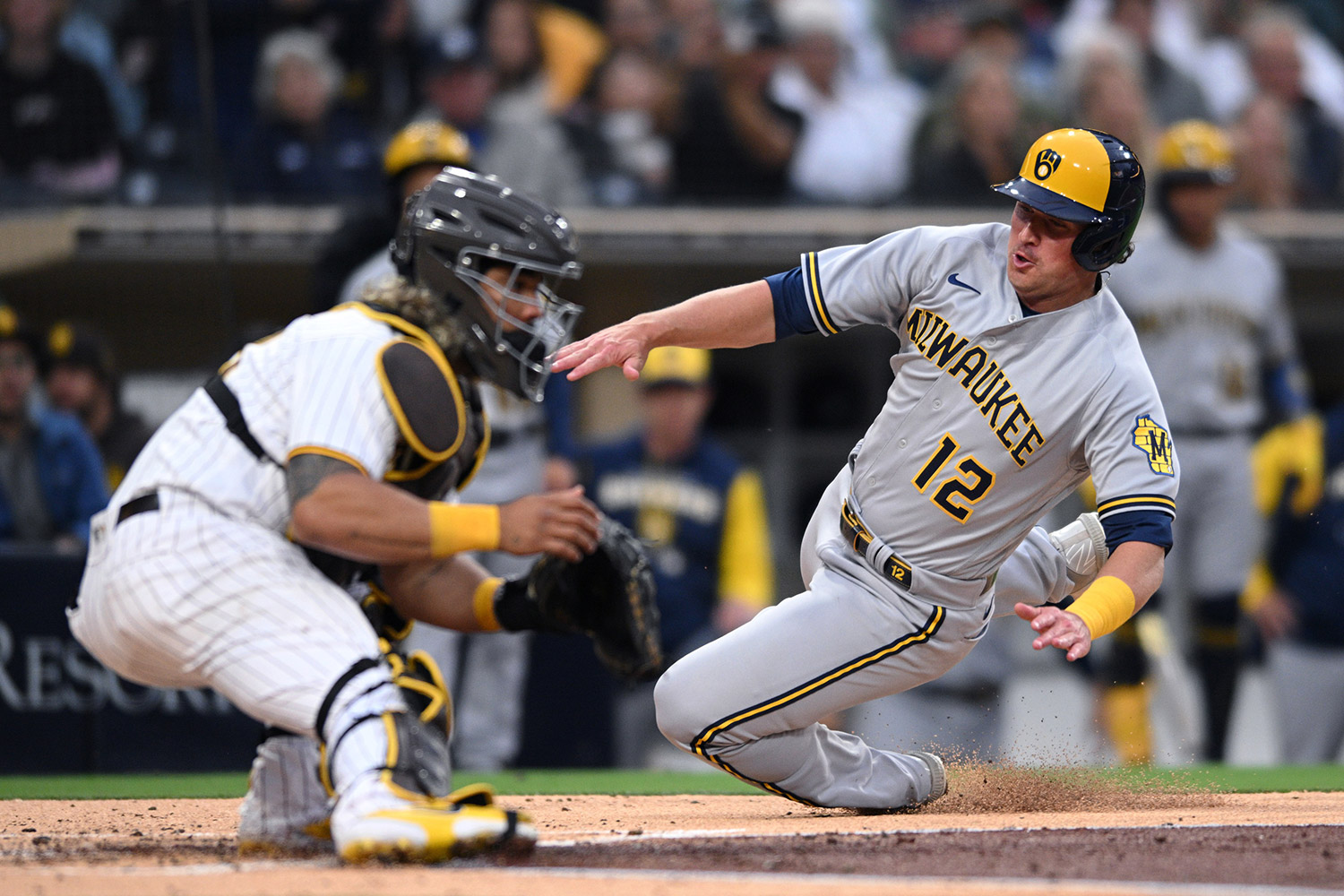 Image courtesy of © Orlando Ramirez-USA TODAY Sports
Before teams got to San Diego and the Winter Meetings, the Milwaukee Brewers swung two significant trades to shake up their lineup and payroll. Did they make the right moves, or will they regret sending their two best offensive players from 2022 packing? 
Trading Kolten Wong and Hunter Renfroe was an early rumor in the offseason. In the trade of either or both players, there were two goals the Brewers needed to reach.
1) Clear payroll to give extensions to the trio of Brandon Woodruff, Corbin Burnes, or Willy Adames.
2) acquire by trade or by way of the freed-up money impact bats to help create more offensive firepower. 
At the end of both trades, the Brewers significantly sat in the middle of not fully accomplishing either. With the Wong trade being financially neutral, they did not fully commit to making significant room on the payroll to either add players or extend any of that core mentioned above.
On top of that, offensively, the Brewers only created more question marks for themselves moving into 2023. If the eye is genuinely on the Brewers competing this upcoming season, it may have been better to hang on to Renfroe and pay him. Then have tried to use Wong to acquire some semblance of the pitching help they acquired in the Renfroe deal with the Angels to supplement the bullpen or add for the future. 
Even though there is a clear path to upside with Jesse Winker, he is still a question mark. If there was a solid supporting cast already around Winker, the gamble could work, but that is not the current state of the Brewers lineup. Even though Renfroe will not be mistaken for Aaron Judge, he is very consistent. In three of the past four seasons, Renfroe has put up a 2.0 fWAR or higher, with shortened 2020 being the season in which he did not. 
In every full season since 2017, Renfroe has also hit 26 or more home runs. His defense is also better than Winker, who had graded as a negative fielder over his career and recently when injuries helped him to a -16 DRS (Defensive Runs Saved). In comparison, Renfroe put up a 6 DRS playing left field for the Brewers last season. While money was always a question mark for the Brewers with Renfroe, history shows he would have been well worth that cost, clearing his arbitration number in value according to Fangraphs in every full season since 2018. The Winker gamble seems strange when you already had a reliable bat on the roster for no more cost.  
In fairness, we likely only know if something pitching-wise was available for Wong like it was for Renfroe. Looking at these trades side by side, it looks like a strange process for a team that outwardly says they want to extend Woodruff, Burnes, and Adames. Extensions or not, one would hope they would want to build a talented roster around that core to fully capitalize on their presence on the roster. 
If Abraham Toro does finally turn into a .300 hitter with the bit of pop he has already exhibited in his short MLB career, this may look like an awful take. If any of the three pitchers acquired from the Angels turn into the next coming of Woodruff, Burnes, or even Freddy Peralta, it may again look like a silly take. That also means that the Brewers' front office nailed their player evaluation. That doesn't change; the process looks strange when this team, pitching-wise, looks ready to take on the postseason. As it stands, in their moves, they further weakened their most significant weakness in the lineup. 
The Brewers still have $10 million in salary relief in this revised direction. There is also still space made for Brice Turang to come in and compete for the starting second base job. 
Does the process feel as off to you? What would you have done differently, or do these trades seem perfect to you?
Think you could write a story like this? Brewer Fanatic wants you to develop your voice, find an audience, and we'll pay you to do it. Just fill out this form.
MORE FROM BREWER FANATIC
— Latest Brewers coverage from our writers
— Recent Brewers discussion in our forums
— Follow Brewer Fanatic via Twitter, Facebook or email