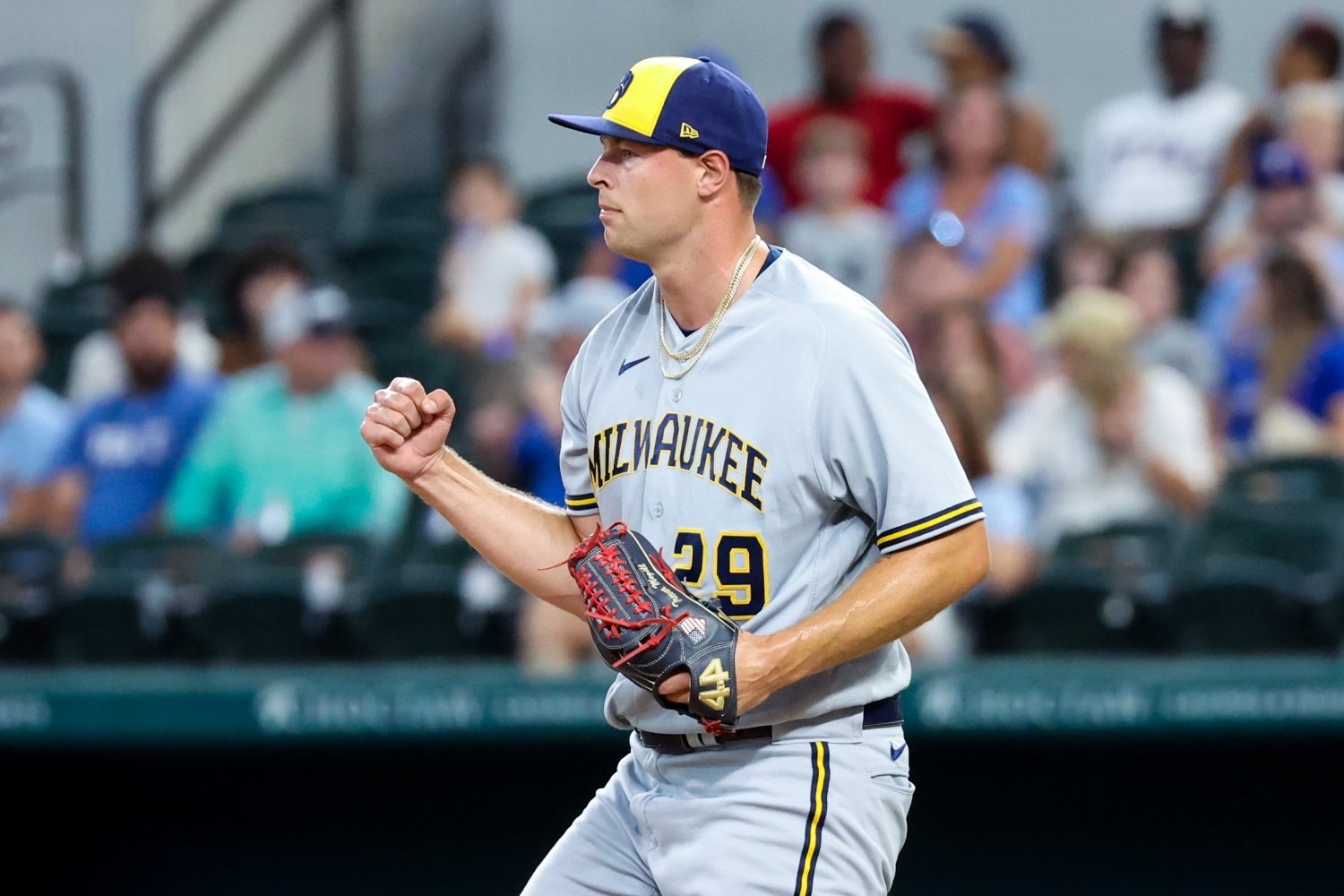 Image courtesy of © Kevin Jairaj-USA TODAY Sports
It's not that no one believed in Trevor Megill. There have always been believers out there. There have even been glimpses--little hints of what was possible, if this monster of a hurler could figure out how not to throw the ball right down the middle and how to add a little movement to his very hot heat. It was just impossible to document that his upside really existed, beyond the imaginations and circumstantial evidence. Through the appearance that last got him banished to Nashville in late July, Megill had pitched 86 innings in 84 MLB games, with 103 strikeouts and just 32 walks--but also 12 home runs allowed, and a 5.84 career ERA.
This time, though, something has changed. In four outings since returning to the Brewers bullpen, Megill has faced 14 batters, allowing two singles and nothing else. He's struck out six of those 14 batters. More importantly, he's slightly but steadily raised his release point, making fuller use of his 6-foot-8 frame, and it's unlocked his exceptional fastball. Megill's velocity has ticked up to new highs, He's averaged a career-best 99.6 miles per hour on his heater this month. He threw nine pitches to close out the Crew's win over the Twins Tuesday night. They were all fastballs, and three of them exceeded 101 miles per hour.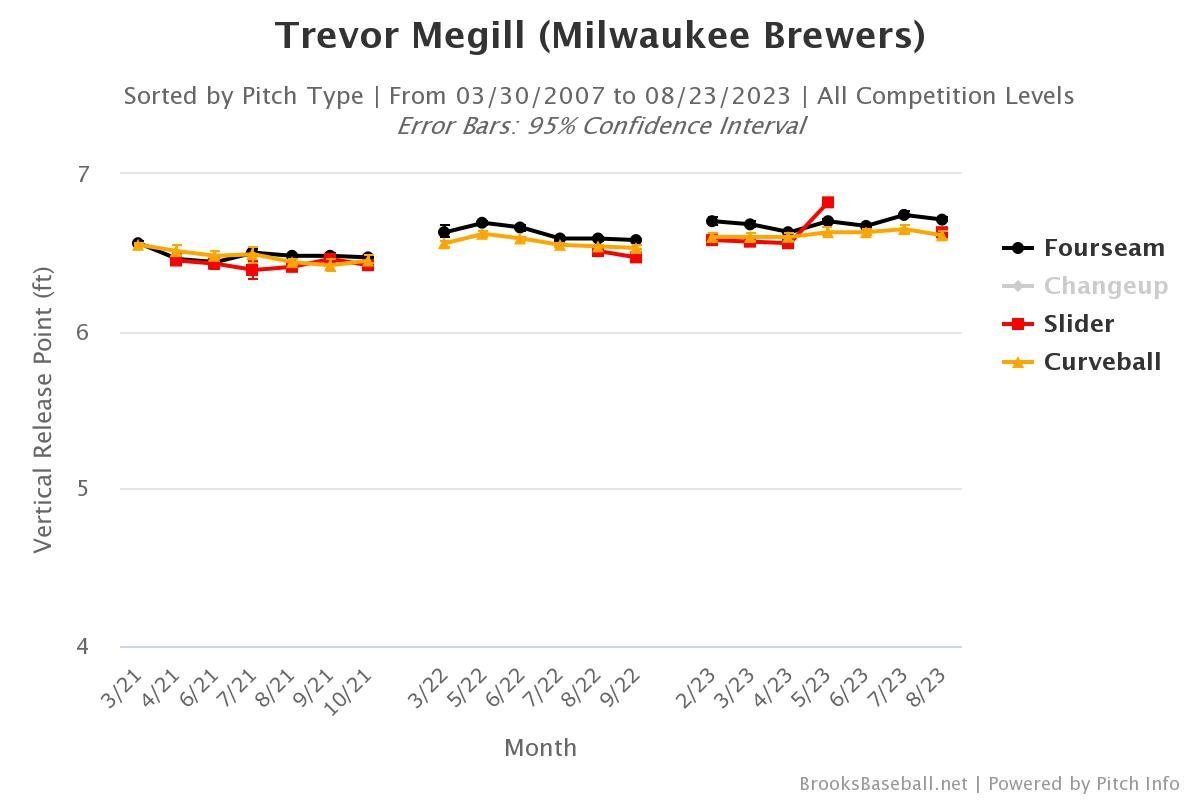 Velocity is easy to find, in the modern game, but Megill has reached a point where there still exists premium value. Just as importantly, though, getting his arm slot up and his hand behind the ball has also increased his extension at release and the vertical movement on that pitch. He's not quite getting the ride Bautista gets on his fastball, but it's now on a par with elite relievers like Jordan Romano, Pete Fairbanks, and Aroldis Chapman. 
In the past, though, it wasn't the sheer stuff on Megill's fastball that caused him trouble. Rather, it was the fact that he threw too many of them right in the heart of the zone, without any precision.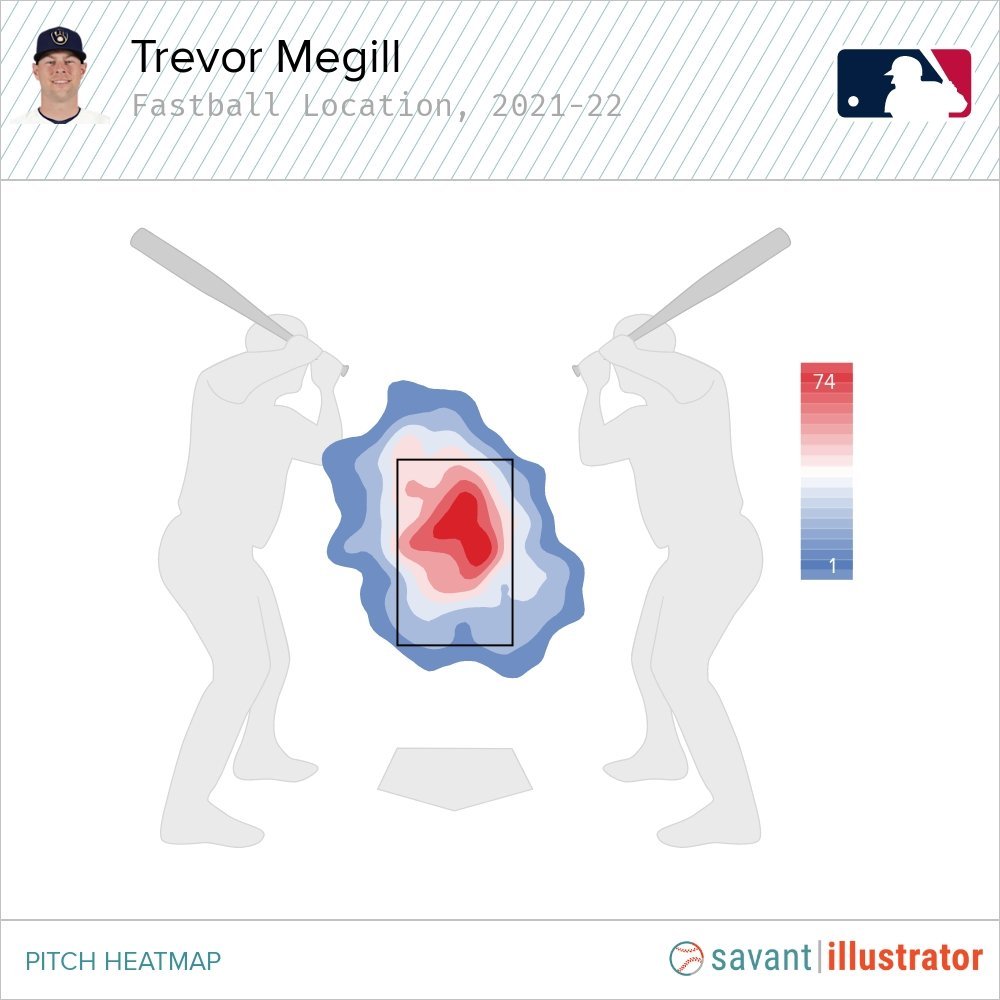 That problem was compounded by his shaky command of his two breaking balls, which also (more often than not) took the form of filling up the heart of the zone. When he did miss out of the zone, it was too easy for hitters to lay off, because they were picking up the differences both in his arm speed and in the spin on the offerings.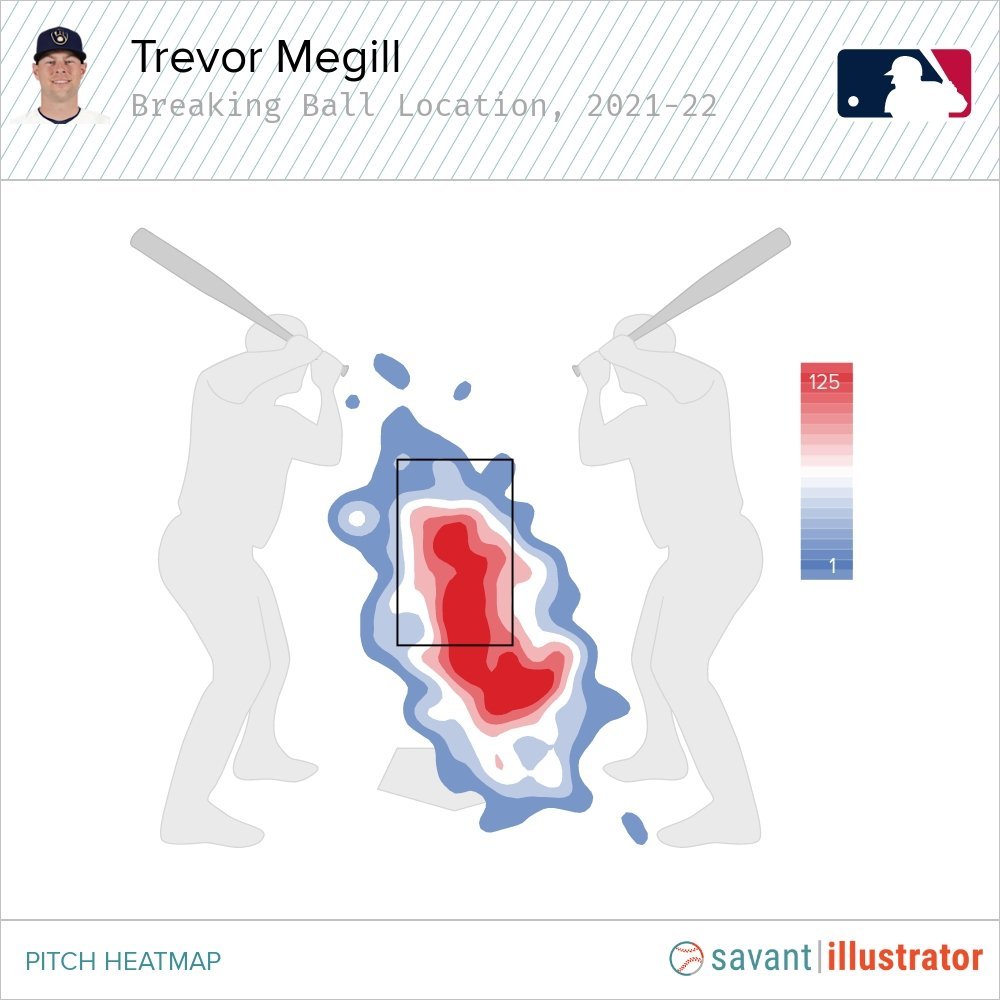 His slider was especially ineffective, as opponents slugged better than .550 against it in 2021 and 2022.
Under the Brewers' tutelage this year, Megill has let go of the slider. He's now strictly sticking to that explosive four-seamer, and his high-spin, high-velocity knuckle curve. It's a pitch he commands much better, and its spin mirrors that of his fastball just about perfectly, making it difficult for hitters to spot out of the hand. His location is much better with that pitch, and so is his whiff rate. Of the 150 pitchers who have thrown at least 100 curveballs this year, only six (Alex Lange, Eury Perez, Ray Kerr, Blake Snell, Tyler Glasnow, and Corbin Burnes) are getting whiffs at a better rate than Megill--and that's over the full season, including his earlier, less successful stints. 
Whether it's been primarily the mechanical adjustments he's made or a better-defined approach, Megill is throwing far fewer meatballs (with both his fastball and his curve) than he has in the past. Pair that better feel with the uptick in stuff and the elimination of his weakest pitch, and it's not hard to understand how he's hugely improved in a short period of time.
Megill is a reminder of why scouts don't give up on players, and why teams give so many retread relievers one more chance than most fans would. Megill is still only 29 years old, and he's under team control through at least 2027. He might yet implode again; it's too early to declare total victory over his past home-run problems. Even so, he's delivering significant value for the Brewers just by showing up and being useful down the stretch here. His emergence is timing out perfectly, as he should be able to make up for the recent struggles of Elvis Peguero and the potential weariness of Joel Payamps.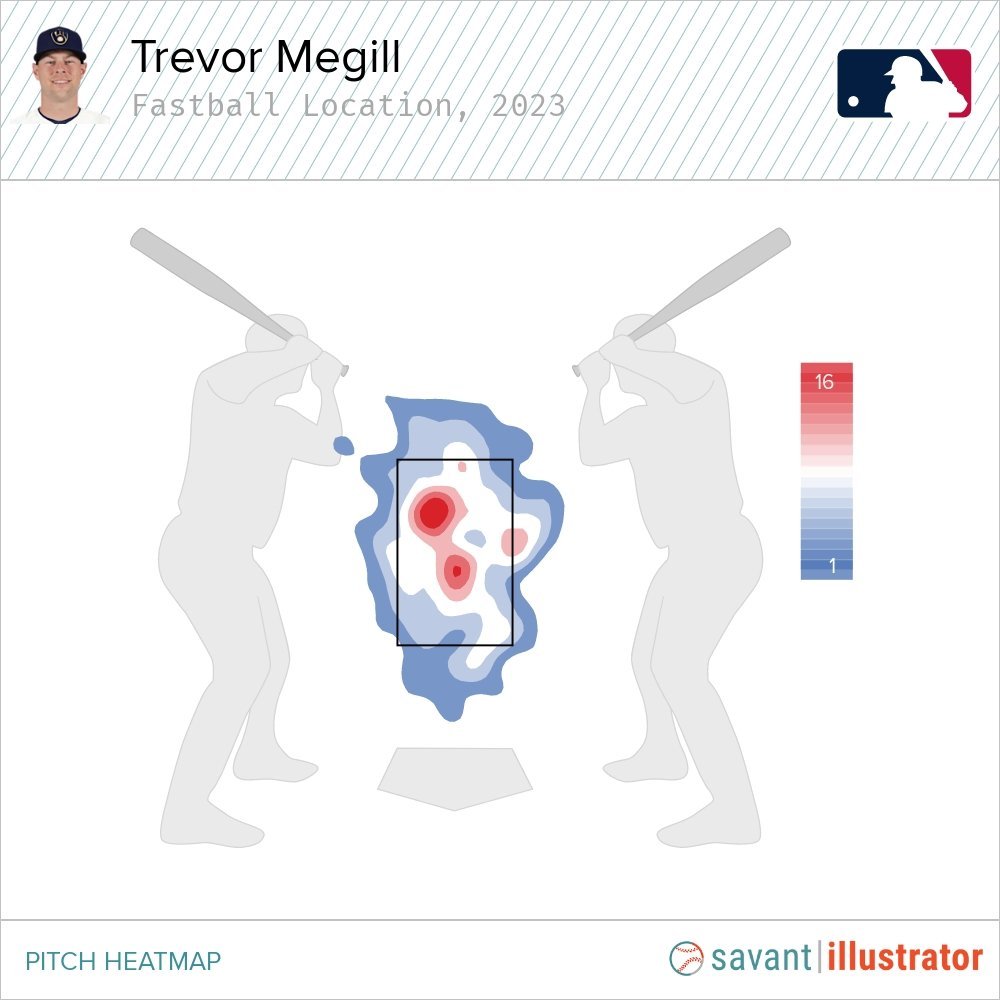 A deep bullpen is as important to the Brewers' preferred style of play--to their way of winning games--as it is to anyone in MLB. Devin Williams and Payamps have been stalwart this season, but the rest of the unit has seen a lot of rotation and turnover. Guys have looked trustworthy for a time, then hit rough patches. It was true of Peter Strzelecki, and of Bryse Wilson. It seems to be true of Peguero. Abner Uribe has largely looked great, and his pure stuff can rival Megill's, but he has yet to demonstrate that he can throw enough strikes to dominate.
Megill goes against type, that way. When one thinks of the journeyman hard-throwing reliever with the high-spin breaking ball, one pictures big walk totals. It makes logical sense that it would work that way, because the harder one throws and the more spin one applies to the ball, the faster several body parts have to be moving. That tends to decrease one's control over each of those moving parts.
That has never been his problem, which is
 inarguably a good thing, because throwing strikes is still the single most indispensable skill for a big-league reliever. In order to be a useful high-leverage arm, though, Megill needed to find a way to allow less hard contact. He's done it. Now, the remaining challenge is to keep it going.
It will be interesting to see whether, and to what extent, Craig Counsell will start to entrust Megill with more important moments. Only one of Megill's appearances since his latest recall was in anything but low leverage, and that's been the pattern throughout the year. He only gets the call with anything on the line when other circumstances have created a near-emergent lack of other options.
There might be a mental hurdle to clear for Megill. He's tended to make his most glaring and harshly punished mistakes when given the rare chance to pitch with the game on the line. August and September, in a pennant race, is a tough time to let a guy with that kind of track record prove that he's made the mental adjustments, even with the several important physical ones he's already accomplished. Still, if Megill does have everything aligned and locked in, Williams might be the only Brewers reliever who can shut teams down as impressively. The Brewers have cut and shined up a real diamond in the rough.
5