What makes a good closer? For the most part, they're expected to have high velocity and otherworldly "stuff", especially since they're often brought in at the eleventh hour and are only expected to pitch for a single inning. You can see this preference for speed by taking a closer look at some of the best closers in the MLB and their average pitch velocities in 2022:
Edwin Diaz (NYM): 99 mph FF, 91 mph SL
Emmanuel Clase (CLE): 100 mph FC, 92 mph SL
Jhoan Duran (MIN): 101 mph FF, 88 mph CB
Andres Munoz (SEA): 100 mph FF, 89 mph SL
Liam Hendriks (CWS): 98 mph FF, 89 mph SL
For the most part, this makes a lot of sense. Longevity, stamina, and pitch diversity don't really matter for closers since ideally, they'll face just three batters before calling it a day and collecting their game check. Most closers choose to master one fastball and one breaking ball pitch to secure the save, but while doing some research into the Brewers bullpen, I noticed something particularly interesting about Devin Williams - he pretty much operates opposite to most closers, and he's really good at it.
Rather than depending on velocity to overpower opposing batters, Devin Williams instead relies primarily on off-speed pitches, namely the change-up. In 2022, his most complete season as a closer, he threw a change-up 58% of the time, averaging a velocity of 83 mph, slightly slower than the league average. He utilizes a four-seam fastball 38% of the time and a cutter 4% of the time, both pitches arriving to the plate right around league-average velocity.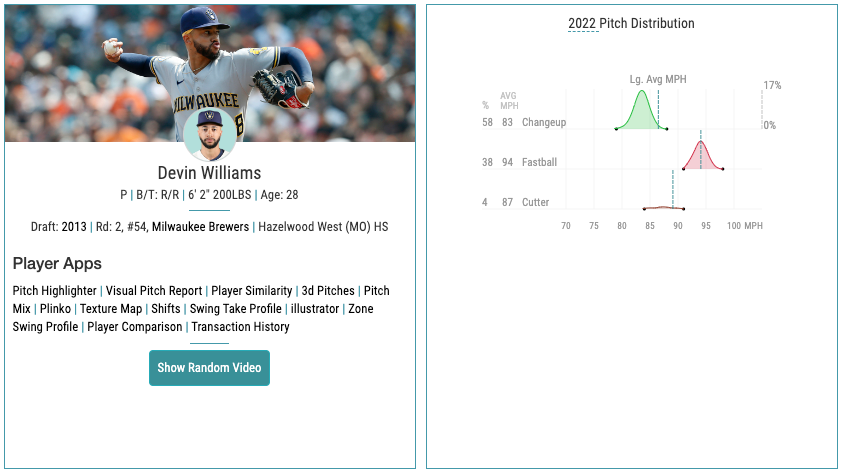 Although not quite as stellar on paper as his breakout rookie year in 2020, his 2022 season was arguably more impressive all-around, namely due to pitching 60 innings as opposed to just 27 in the COVID-shortened 2020. With an ERA of 1.93, an ERA+ of 205, FIP of 2.01, and WHIP of 1.005, Williams was an integral part to the Brewers success last season and he will be an important piece of future playoffs pushes. But how can a closer be so successful while having a strategy so counterintuitive to the current philosophy surrounding relief pitching?
---
The Last Airbender
Two of the qualities behind a good change-up are how much slower it is than a pitcher's fastball and its movement. Williams' change-up has 42.7 inches of vertical drop and 19.0 inches of horizontal break, both figures that are among the league's best. Combined with the inherent deception from a change-ups slower speed, this pitch is immensely difficult to hit, explaining his Whiff% and K% numbers of 43.9% and 36.6%, respectively. Rob Friedman, also known as The Pitching Ninja for his pitching-focused social media content, gave this pitching the loving name after remarking that it was simply too nasty to be lumped in with other change-ups in the league today.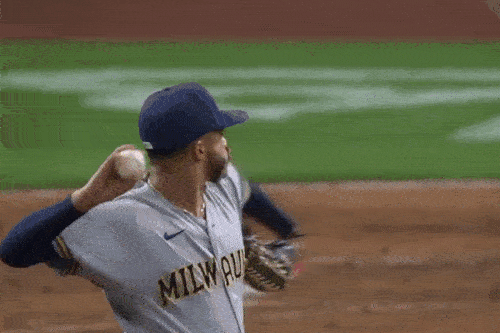 What makes this weapon even more effective is how much it differs from his four-seam fastball. It comes in with only 14.5 inches of drop and 12.2 inches of horizontal run, which is much less of a moving target, but comes in at 11 mph faster. It's a pretty typical four-seamer, but because many are expecting a pitch with devious movement, many watch it blow by them, straight into the center of the strike zone. This explains the 47.3% strikeout rate and the PutAway% of 30.1% associated with this pitch.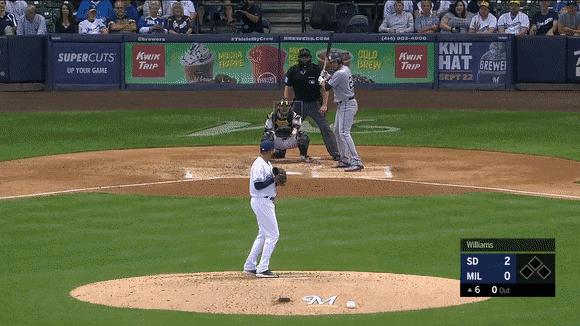 ---
Alexa, Play Narcos by Timmy Trumpet 
Devin Williams wasn't supposed to be the Brewers' closer. For most of his relatively short major league career, he was a reliever, and a damn good one at that. He accomplished the rare feat of winning Rookie of the Year in 2020 as a non-closer relief pitcher, but in Milwaukee, Josh Hader was still the big man on campus. That is, until Hader saw a complete meltdown towards the end of his time with the Brewers before being traded to the Padres. Williams stepped up to the mound and dazzled in his new role, sticking to the pitch arsenal that had worked for him and rejecting modernity, logging 15 saves with his unorthodox closing style.
When many people think about Brewers pitching, Corbin Burnes and Brandon Woodruff jump to mind, but in his new role, Williams may start to occupy more of that attention. With major moves in free agency that saw important position players Hunter Renfroe and Kolten Wong shipped off to new teams and William Contreras picked up to serve as as the new catcher, the strength of the Brewers pitching staff is now a more important piece than ever to the team's playoff puzzle and is their main competitive advantage. While he may not get a live musical performance introduction with trumpets and dancing baseball-headed mascots, he will still be one of the best closers in the league and definitely a fun player to watch in the coming year.