Prospect Comparison Part Two - Aaron Judge vs Joey Wiemer
---
This is a big statement, I know, but hear me out on this one, and you might find the two are a lot more similar that you'd originally think.
In terms profile of the player profiles, they are remarkably similar, both very tall players with access to huge raw power, a surprisingly advanced hit tool, the speed to play centre field if needed, and absolute cannons for throwing arms. One could argue that Judge has access to more power given the size of his frame, and Weimer has access to more speed, but they are relatively similar in a lot of aspects.
Take a look at their performance lines from each of their first two seasons in the minors:
| | | | | | | | | |
| --- | --- | --- | --- | --- | --- | --- | --- | --- |
|   | Level | Avg | OBP | SLG | OPS | SO % | HR | SB |
| Aaron Judge | A/A+ | .308 | .419 | .486 | .905 | 23.3% | 17 | 1 |
| Joey Weimer | A/A+ | .296 | .403 | .556 | .958 | 22.2% | 27 | 30 |
| Aaron Judge | AA/AAA | .255 | .330 | .448 | .777 | 26.7% | 20 | 0 |
| Joey Weimer | AA/AAA | .256 | .336 | .465 | .801 | 26.8% | 21 | 31 |
As you can see, the entire second season is eerily similar for the two players as they made their way to the upper levels of the minors. The real standout is the strikeout rate, which is actually lower for Weimer despite scouts preferring Judge's ability to cover the plate as a prospect.
Judge had an injury or two to deal with in his second year in the minors, but finished on a hot streak in AAA, was called up to the majors, and produced a .608 OPS in 95 plate appearances. He didn't really take off until the following year where he mashed 52 home runs and a 1.049 OPS after adjusting to major league pitching. However he did struggle initially in his first call-up to AAA, with an adjustment period needed before finding his swing at the plate.
Joey Weimer, having won the Brewers pipeline prospect of the year honours in 2021 for his outstanding first season, picked up a wrist injury in the middle of his second season, resulting in a dramatic fall in output. He hit just for an OPS of .687 in June and .442 in July, before returning to reduce his strikeout rate, his contact and his power numbers to a level on par with his first season, even despite the rapid promotions. He finished the season in September with 15 walks vs 10 strikeouts, 8 XBH in 63 AB's and a slash line of .302/.425/.476, tantalising us with a glimpse of better plate coverage and what that could mean for him this coming season.
Judge has also been ranked higher on most prospect lists, due to a combination of his draft position and his college numbers, whereas Weimer didn't start tapping into his power until he hit professional baseball. He hadn't managed more than 6 homers in a spring period, which could explain the difference in hype. Judge would also be regarded as having a better hit tool, and more raw power due to his sizeable frame, and it was generally considered that he had quite a short swing to the ball, not fully utilising the power in his 125kg frame. Weimer, on the other hand has a more chaotic swing, with huge bat speed and hand speed, creating most of his power from this, but is more susceptible as a result of struggling with major league pitching. Eric Longenhangen spoke about his tendency to swing inside pitches on the outer part of the strike zone, something he will need to tighten up on before he can be successful in the majors. Where did Judge struggle when he first came up to the majors? Take a look: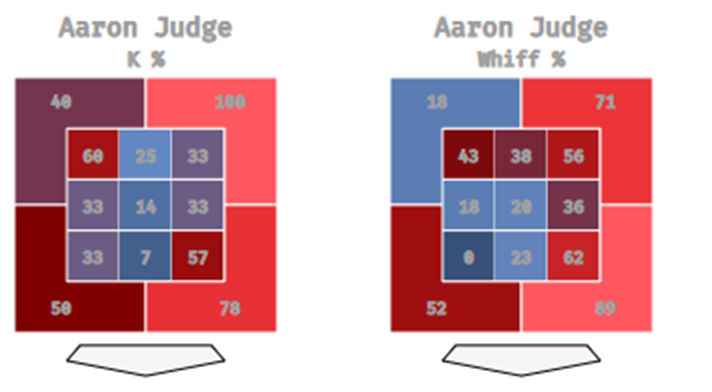 The other interesting area in which Weimer and Judge would separate themselves is their speed. Weimer would be a faster athlete, more mobile and able to cover the outfield grass better, but this really shows up on the base paths. With 61 steals in the minors across two seasons, he's a real threat to opposing teams, even more so given he was only caught 9 times, an 87% success rate!
Weimer's reduced strikeout rate of 19.5% at AAA, his "calmer" swing since joining the Brewers (including ditching his leg kick for a toe tap) give a real optimism about what Milwaukee could have in their system. Keith Law referred to him as having "stupid power" and that even hitting .220-.230 he could be a plus major league asset, with his defense, speed and quality of contact providing a higher floor than you would usually have with this type of prospect. And in regards to his ceiling, well… that's probably a guy who just hit 62 home runs last season.