Luis Urias: The Deep Dive
---
Luis Urias has been a polarising figure for many Brewers fans, probably due to a differentiation in what people expect from the hot corner (a fact made worse with Nolan Arenado in the same division) and what is regularly produced by the position It should be noted that fangraphs estimates his value over the last two seasons to be in the $17-18 million range. Let's take a deeper look into what Urias has been developing, and where he can look to improve.
Defense
In Luis Urias first full season with the Brewers, he struggled massively with throwing the ball, particularly when he had time to overthink the process. The botching of a lot of the simpler plays led to a perception that he was a poor defender, but that isn't entirely the case. It's true that, per baseball savant, he was worth -11 outs above average in 2021, but over half of this was comprised of excessive playing time at shortstop. In 2021. he was worth -4 OAA at shortstop, and +4 OAA in a similar number of plays at second base. He is a largely league average defender in 2022 at third base (-1 OAA). His arm strength is in and around the 30th percentile, another reason why he shouldn't be played too often on the left hand side of the infield, but he has a high quality glove and great reaction times. He cut his errors down from 24 in 2021 to 14 in 2022, and he produces markedly less mistakes when playing on the right hand side of the infield, with just one mistake in 46 games. In other words, he's a high quality defender at second base, but a merely passable one at third, and should be kept well away from shortstop. This seems to be something the Brewers have worked to create, with the likes of Toro & Miller as suitable defenders at third base, and Turang's impending arrival.
Hitting
Urias took a big step forward offensively from his production with San Diego. His barrel rate went from a previous high of 4.4% in 2019, to 9.3% in 2021, and developing his hard hit rate too. He has maintained this throughout 2022, albeit a slight drop off, but his biggest weakness currently is not quite so obvious. He's very good at covering the majority of the zone well, even controlling his whiff rates outside the zone. the issue with this is how often he generates weak contact and an easy out from this position, and anything on the inner third of the plate;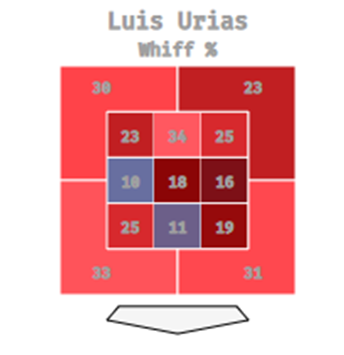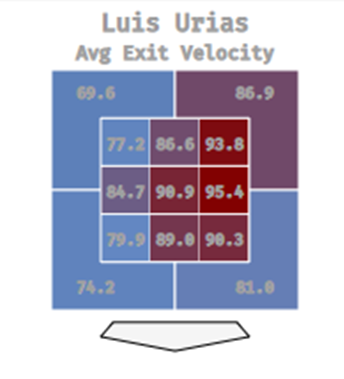 As you can see, Urias really struggles to generate quality exit velocities from these positions, and has allowed him to be targeted repeatedly, and successfully, high and inside by the four seam fastball. The danger for pitchers comes if they leak that fastball further away from him, at which point he's very good at creating hard contact and elevating the ball; he managed to average 14.2 degrees of elevation in 2021 and further increased that to an 18 degree launch angle in 2022. If the ball is belt high, he hits fly balls almost 50% of the time, as well as strong elevation rates in the upper half of the strike zone too when he isn't cramped for room.
An interesting point of development for Urias is how much stronger he's become in doing damage when he gets ahead in the count. He receives off-speed in these counts around ten percent of the time, so it's more negligible, but the quality of contact on both breaking pitches and fastballs has skyrocketed.

It's breaking balls in particular that draw the eye here, with a significant jump in both exit velocity and expected slugging. However he faced far fewer favourable counts in 2022, due largely to a change in approach. Despite facing 62% of first pitch strikes, he swung on the first pitch only 21% of the time, down from 30% in 2021. This could be for a number of reasons, but during the course of the season we know that he was struggling with his wrist, and a change in approach to grind out the AB's instead of looking to do damage may have caused him to create lower exit velocities than expected. in addition, he was regarded as a plus player when it comes to his swing/take decisions, in 2021 having a +17 run differential. Yet in 2022, this significantly as a result of a -15 score for pitches taken over the heart of the plate. A lot of people in the Brewers camp were raving about his physical development last off season and the additional power he was impacting the ball with, yet we didn't really see that throughout 2022. I think a tweak in his approach could allow us to see more damage from his bat in 2023.
Regarding the wrist injury mentioned above, a loot at his splits throughout the year highlight this quite well. He maintained very strong walk rates for the most part when he was struggling at the plate, topping out at 13% in August. Yet when he developed through the issue you could see a marked improvement, hitting .328/.415/.507 in September/October, stepping up when Brewers needed him most and giving a glimpse of what he could do if he can remain healthy throughout 2023.
Conclusion
If playing predominantly at second base in the coming season, Urias could quite possibly be a 4-5 WAR player should he tap into his offensive capabilities. We need to see if he can replicate his performance at the end of last year, as well as tightening up on those inside pitches, doing a better job of pulling his hands in and muscling the ball into the outfield with more authority on these pitches. If he can manage these, he can show himself off as one of the premier second basemen in the league.