Tyrone Taylor: The Deep Dive Part 1
---
Despite his injury, I thought I'd take a glance as to why we can look forward to Taylor's return. So without further ado;
Taylor, despite being at times one of the top Brewers prospects, has always come across as a bit of a "meh" player, and understandably so. He has a bunch of tools that are league average or just below league average coming into 2022, with a little additional power when pulling the ball. Primarily seen as a below league average right fielder, he surpassed all expectations with his quality defense in centre, and above average offensive output compared to most centre fielders, posting a 2.1 fWAR mostly centred around his defensive contributions. Anyway enough preamble, let's get down to business and see what we could expect from Taylor going forward.
Defense
We'll start with his primary WAR contribution; Taylor surprised everyone with his defensive metrics in 2022, where we didn't think he would have the speed to provide above average coverage of the outfield grass in centre. This may be a misnomer however given he simply doesn't show this on the base paths, but was in the 80th percentile for sprint speed, 86th percentile for outfield jumps, and 92nd percentile for out above average last season. He was particularly adept in his lateral movements, creating 6 OAA, while being around average in moving forward and backwards. He also added 2 OAAA in left field in only 29 fielding attempts, with a 97% success rate. Given the effect that a good route has on vertical movements, it's quite possible that Taylor could improve defensively moving forward and backwards simply with more experience in the role. Have a look below and you'll see that, despite high marks for his acceleration and reactions, his routes are slightly below average.

Offense - Weaknesses
Last season, Taylor's offensive numbers are intriguing. He hit .233/.286/.442, really struggling to get on base, yet producing quite solid power numbers with his 17 home runs coming despite being in the 33rd percentile in average exit velocity and 34th percentile in hard hit percentage. Looking slightly further into things and you can see where the power came from. Although he didn't actually time the ball that well last season, with below average quality of contact, when he did, he produced quality loft angles, resulting in a high scoring output from the contact he made. He averaged 16.9 degrees of loft angle last season, and was in the 68th percentile for barrels per plate appearance.
His other big issue is how little he walks, with his low batting average last season contributing to a comfortably sub .300 OBP, something which isn't sustainable in the big leagues. Looking at some background stats, it's quite clear pitchers heavily went down and away against him, but he did a relatively decent job of not chasing these pitches as you can see:

However it's the way in which he regularly chases pitches in all areas out of the zone that create such a poor profile for him, with 27th percentile in chase rate. Combine this with his 38th percentile whiff rate (almost entirely arising due to how bad he is at hitting any pitch outside the zone) and you can see that he isn't particularly adept at even fouling these pitches off. When he does chase, he misses far too often, as you can see below: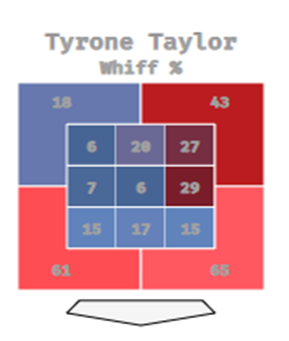 In terms of his OBP improving, one under the radar effort might be found in a recent MLB article about those most likely to profit from banning the shift. When he put the ball on the ground, 63% of balls were pulled, most of which were in and around where the third basemen will have to cover on his own rather than with a shortstop to assist. Taylor only hit 20% of his balls in play to opposite field last season, and his WOBA with the shift was .287, without the shift it rose to .337. MLB estimated an extra ten potential hits gained if the shift laws were in place last season. He also had a very low BABIP last season against the shift of .236 contrasted to a .319 BABIP without the shift in place, so it's reasonable to expect an uptick in his batting average next season.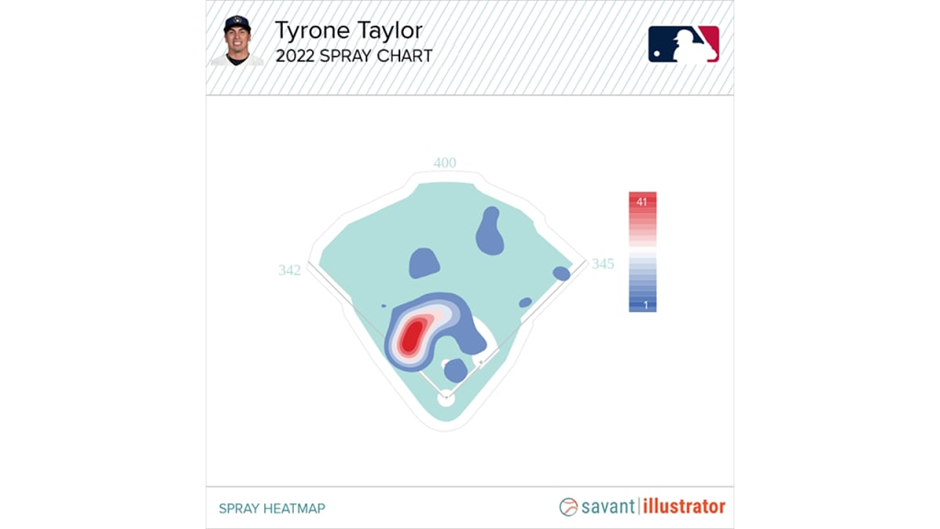 One final mention is his weakness both up and in, and up and away (in zone). In both areas, he hits for a BABIP below .100, with 38 degree launch angles average. He creates a lot of soft fly balls and popups in these zones, and could be served by avoiding these pitches, particularly early in the count. That being said, when you look at how her performs in each count, its' quite interesting. He almost solely looks for walks when he get to a 3-0 or 3-1 count, taking the pitch the majority of the time. He didn't produce a single hit in these counts across the course of the season. He actually does most of his damage in a 1-0, 1-1 or 2-1 count.
Stay Tuned for Part 2!