Tyrone Taylor: The Deep Dive Part 2
---
 Offense - Strengths
So again, I'll start with something slightly out of the blue... despite producing only three stolen bases in 2022, Taylor had 1.2 run value added for his base running, a significant improvement on previous seasons, perhaps indicating a real intelligence on going first to third, avoiding Double plays, but I think given the speed he possesses, he could be an under the radar candidate to steal a few more bases this year. I can't find data to indicate if it's his reads, or something else, but given the quality of his initial burst and reaction time in the outfield, it's not unreasonable to expect that this could translate to the base paths.
As mentioned earlier, he has a real ability to a) elevate the ball, and b) pull the ball with authority. His average exit velocity down over the heart of the plate is 97.9mph, translating to him absolutely feasting on sinkers last season to the tune of a BA/SLG of .287/.575. If pitchers try and pitch him below the zone, and miss, he can make them pay for it.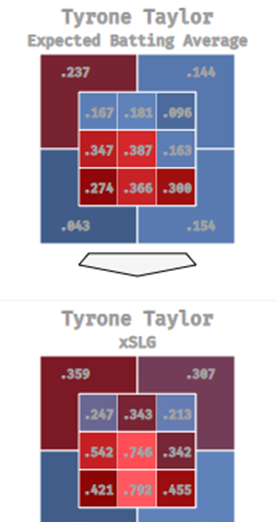 He does struggle with the elevated pitches to create consistent launch angles and high velocities, but he can punish mistakes handsomely if you miss your spot, a prime reason for his streaky hitting throughout the season.
https://www.mlb.com/video/hunter-greene-in-play-run-s-to-tyrone-taylor
Home runs like this kind of defy the stats above, leading to him being coined a "high fastball hitter", but as impressive as it is, it's important to recognise the high fastball is really not his strength, and he could be maximised this year by throwing him out more against sinker ballers.
His 25.2% strikeout rate, and 5.4% walk rate last season were both career highs, potentially as a result of playing in centre field almost every day. The Brewers didn't trust Jonathon Davis overly in the batting line-up, and until Mitchell came up, there weren't many players to spell him defensively. Coincidentally, or maybe not, when the crew started giving Mitchell more time in centre in the last month of the season, Taylor's productivity shot up, hitting .290/.333/.583 over this period.

One further and final point is his ability with RISP. With men on base, Taylor hit .260, and with RISP this rose again to .311 last season. As with Willy Adames, he really thrives under the bigger moments, and is one of the reasons why the Crew were so effective last season when they had men on base.
Conclusion
 Taylor was at the very least, an important contributor to the Brewers last season, with high value in centre field, and an ability to hit the long ball. As a base for a centre fielder, a lot of playoff teams would have taken that, you look at the struggles LA had with Bellinger, Grisham with San Diego, the Phillies, Yankees, etc. So in that context, he's a valuable commodity, but with the talent the Brewers have coming through he may soon be relegated to more of a fourth outfielder role by the start of next season, or even be a trade option when he hit arbitration.
He does need to develop a means of shortening up on two strikes and at least get wood on the ball when chasing pitches, but I do think that his energy levels were sapped a bit by how often he played centre this season with his frame. If he can lay off pitches more efficiently, potentially look to do more damage in the 3 Ball counts, and take advantage of the new shift rules, we could see a 110 OPS+ hitter with an ability to play above average centre field. Who wouldn't want that on their team?