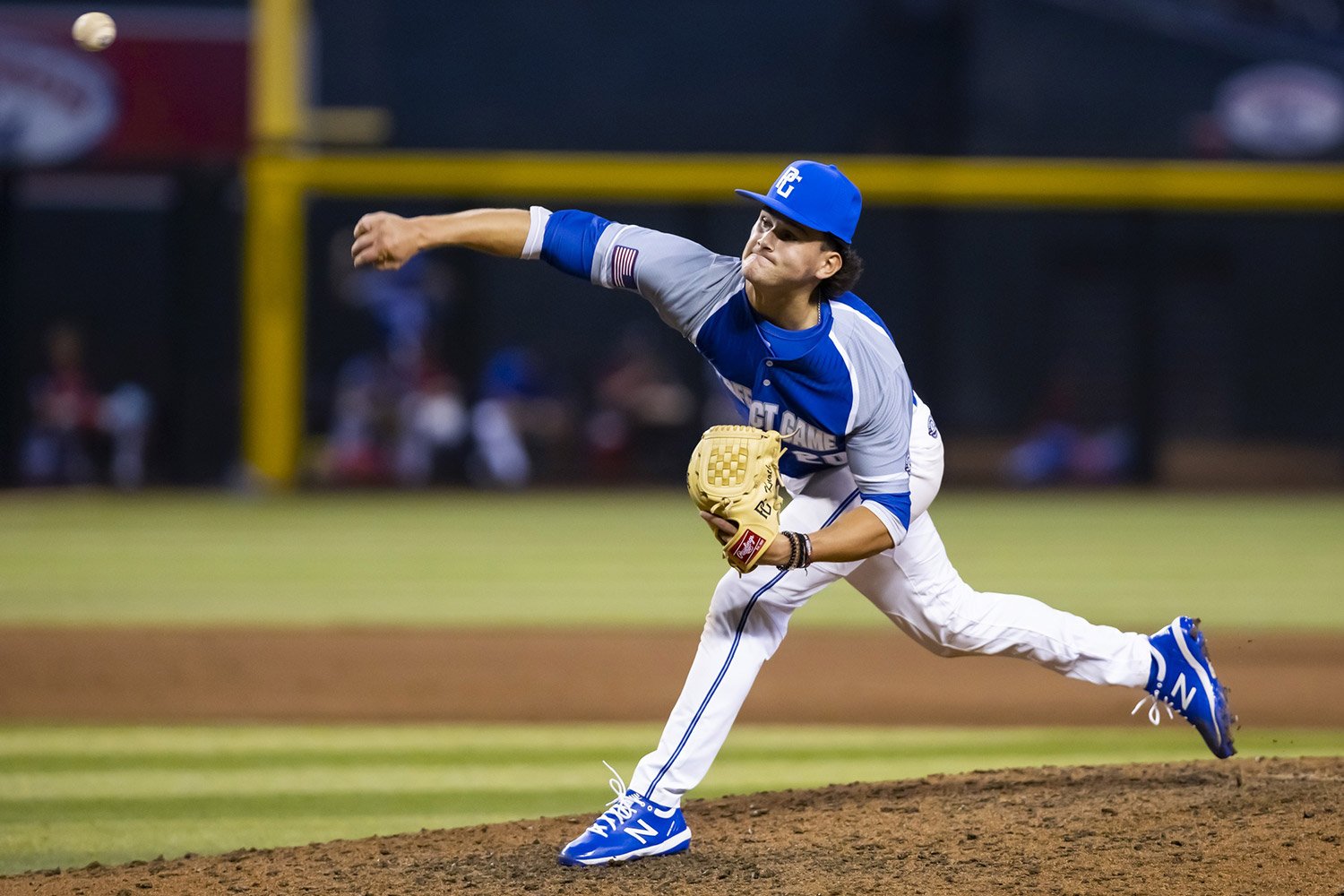 Image courtesy of © Mark J. Rebilas-USA TODAY Sports
#15 OF Yophery Rodriguez (DSL Brewers)
The Brewers handed Rodriguez their biggest signing bonus in the 2023 international class, giving him $1.5 million to join the system. Rodriguez doesn't have one standout tool. Instead, he has one of the most balanced skill sets you will find from a player his age. A patient hitter with an average ability to make contact, Rodriguez is very young and has plenty of projection ahead of him as he matures. He has already shown some in-game pop, but it's safe to project even more in the future. He has a flat swing path, which is part of the reason the power hasn't quite come around yet. That swing path also allows him to make such consistent contact, though, and reports have him handling velocity and spin extremely well early in his career. His BABIP of .289 in the DSL is abnormally low, especially for a guy who hits the ball as hard as he does and only carries a 10% infield fly ball rate. He likely had some bad luck this year, and his numbers could have looked much better.
Rodriguez isn't the fastest center fielder around, but he still has above-average speed overall, and he will likely be a capable base stealer as he advances through the system. Defensively, Rodriguez has excellent instincts and gets great jumps. He will have a chance to stick in center, but he also has a good enough arm to handle right field if needed. Rodriguez could have 55-grade tools across the board at his peak, making him a Top 100 prospect at minimum. His combination of advanced hitting skills and physical upside give him a pretty high floor, which is rare for his age, but also gives him a significant ceiling. Look for Rodriguez to follow the Luis Lara route next year, potentially skip the Arizona Complex League altogether, and make his full-season ball debut a month or so into the season.
#14 RHP Logan Henderson (Carolina Mudcats)
Henderson was the Brewers'. A fourth-round selection in 2021 out of McLennan Community College in Texas, and thus far, he's looking like another fantastic find in the Junior College pitching ranks by the Brewers. He was committed to Texas A&M at the time of the draft, but Henderson chose to sign with the Brewers. Unfortunately, most of his first year and a half after signing was spent continuously bitten by the injury bug. Before the 2023 season, Henderson had only thrown 15.2 professional innings. 
Equipped with a low 90s fastball coming out of McLennan, he has raised his average velocity to a little closer to 93 and has even reached back for 97 MPH a few times. The fastball plays especially well when thrown up in the zone due to its high spin and spin efficiency. He spins his slider at nearly 3000 RPM, and it shows signs of being a nice pitch. At times, however, it seems that he loses the angle/tilt on the pitch, and in that scenario, the slider doesn't move much. His best pitch, though, is his changeup. You would be hard-pressed to find a better changeup in the Brewers system. It has some airbender qualities when he's really got it going. Like Devin Williams, the changeup is a great pitch on its own, but it also helps his fastball to play above the velocity readings. 
Striking out over twelve batters per nine innings while walking fewer than three per nine, Henderson showed exactly what the Brewers saw in him at McClennan to use a fourth-round pick on him. Henderson mixed all his pitches with regularity and used them all in tandem to have a fantastic and, more importantly, healthy season. Given all of that success in 2023 and that he's a bit older than the average prospect at Low-A, it would not be a huge surprise to see him skip High-A altogether and the Brewers have him begin 2024 in Double-A Biloxi.
#13 1B/3B Luke Adams (Carolina Mudcats)
The Brewers twelfth-round pick in the 2022 draft. Adams was drafted out of Hinsdale Central High School in Illinois and appeared to have been a nice find by Area Scout Ginger Poulson. Adams spent the first few weeks of the 2023 season still an 18-year-old before turning 19 in late April. Standing 6'4, 210 pounds, he comes with a rare blend of patience at the plate to go along with his plus raw power and surprising speed for his size. Adams has played a very solid third base where he has the arm to handle the position and has shown an early ability to make off-platform throws, which is not easily done at 6'4. He also spent some time at first base, where he is a definite above-average defender. His plus arm would be a good fit in right field as well, which he has the athleticism to handle.
At the plate, Adams has an… interesting swing, to say the least. It's a very violent swing with a ton of moving parts. Yet, at the same time, he also shows an impressive amount of patience. The key for him will be continuing to find the balance between being passive and patient. Otherwise, that may be something that pitchers will be able to take advantage of as he begins to climb the organizational ladder. His loudest contact so far has been on the ground, though his overall batted ball profile suggests he has no issues getting the ball in the air. Early in the season, he struggled with hitting a lot of infield pop-ups, but he corrected that as the season progressed, and that was when he started to see his average climb. 
When you hit the ball as hard as Adams does, a pop-up is the only ball in play that doesn't have a chance. His 90th percentile exit velocity this year was 106 MPH. The MLB average for 90th percentile exit velocity in 2022 was 103.7 MPH. As an 18 and 19-year-old hitter, fresh out of high school, Adams posted exit velocity data that would have been well above average in MLB. While the swing isn't the most visually appealing operation, his results, and batted ball data all point to a very good offensive prospect. Combine that with his stealing 30 bases this year and some interesting defensive skills; Adams will almost certainly have some ups and downs over the next few seasons, but he has an extremely high ceiling if he can put it all together. If Adams had not signed with the Brewers as a twelfth-round pick and had gone to Michigan State and posted batted ball data like this, he would likely already be generating first-round buzz in the 2025 draft.
#12 RHP Josh Knoth (Yet to make pro debut)
The Brewers Competitive Balance Round A selection in the most recent draft, Knoth has arguably the highest ceiling of the Brewers' day one selection. Knoth has a smooth delivery that is easily repeatable. Going back to the summer of 2022, his profile was extremely enticing, even though he only threw his fastball in the 90-93 range and was topping out at 95 at the time. This past spring, however, he was up to 98 on occasion and sitting more in the 93-96 range. The fastball has a good life at the top of the zone and pairs extremely well with what might be the best secondary offering in the entire system. That offering is his hammer curveball. It's a 3000 RPM pitch with a late bite and a ton of vertical movement. His slider could also be a plus pitch, coming in on a different plane than his curve but also having sharp movement and a spin rate of around 3000 RPM. Knoth also mixes in a changeup that shows some interesting fade but doesn't take as much velocity off of it as you would hope. The Brewers will likely work with him to create more separation between the fastball and changeup.
Knoth will be 18 for the majority of next season, and barring an incredible spring training showing, the Brewers will likely keep him in extended spring training next year before he makes his debut with the ACL Brewers in mid-summer. Knoth's upside on the mound might be second only to Jacob Misiorowski in the Brewers system, and the Brewers will likely be careful with his innings load at the beginning. Knoth is far from a finished product, but if he can stay healthy and they can maximize the pitch mix he already has, the Brewers could have a top-of-the-line starter on their hands in a few years.
#11 SS Eric Brown Jr (Wisconsin Timber Rattlers, Biloxi Shuckers)
Brown Jr, the Brewers' first-round pick in the 2022 draft, is a premium athlete at a premium position. He plays a strong shortstop defensively, where his arm is above average, especially with the quick release he uses to get his throws off. His quick-twitch athleticism, good range, and good hands have allowed him to make impressive defensive plays. At times, he has seemed to lose concentration and make some errors in some of his routine plays, but that is not uncommon for younger players. On the offensive side of the ball, Brown came out of Coastal Carolina with a very low strikeout rate and an even lower chase rate, to go along with some pretty intriguing exit velocity numbers. Brown Jr fell slightly and further than his numbers indicated, mainly due to his peculiar-looking load and stance in college and some concerns about elevating the ball. He was an analytical darling, but traditional scouts weren't as convinced due to his stance. 
Last offseason, he made some changes and came into 2023 with a load involving much less movement than the one he was sporting in 2022. With his new load, his hands are still starting in an awkward position, out in front of his head, but his big change was with his lower half. No longer using his big leg kick (he has gone to a much quieter leg lift), Brown seemed to have a bit of an adjustment period to get used to this new load in games. His wRC+ through the end of April was 39. He was hit in the face by a pitch on April 26th but luckily avoided major injury, and after returning on May 3rd, he started hitting much more like one would expect a first-rounder to hit. From May 3rd through the end of the season, Brown Jr would post a 122 wRC+ and an OPS of .781 in that span. The Midwest League is a tough-hitting environment, and Brown Jr did pretty well when he was healthy. He limited his strikeouts to a very reasonable 17.2% rate and walked at a high rate. While he didn't tap into the power that he has shown flashes of with much regularity, he did steal 39 bases while only being caught five times. 
Brown Jr is taking part in the Arizona Fall League this offseason, and the hope is that he can take that experience to go along with what will hopefully be a healthier season in 2024 and show why the Brewers took him in the first round. His path thus far has been very similar to Tyler Black's through Black's first year and a half of pro ball. The hope is that Brown Jr will follow Black's footsteps even further on his way to a breakout in 2024. He will likely begin next season in Double-A Biloxi.
What stands out from 11-15 in this list? Let us know your thoughts in the comments!
Think you could write a story like this? Brewer Fanatic wants you to develop your voice, find an audience, and we'll pay you to do it. Just fill out this form.
MORE FROM BREWER FANATIC
— Latest Brewers coverage from our writers
— Recent Brewers discussion in our forums
— Follow Brewer Fanatic via Twitter, Facebook or email
2