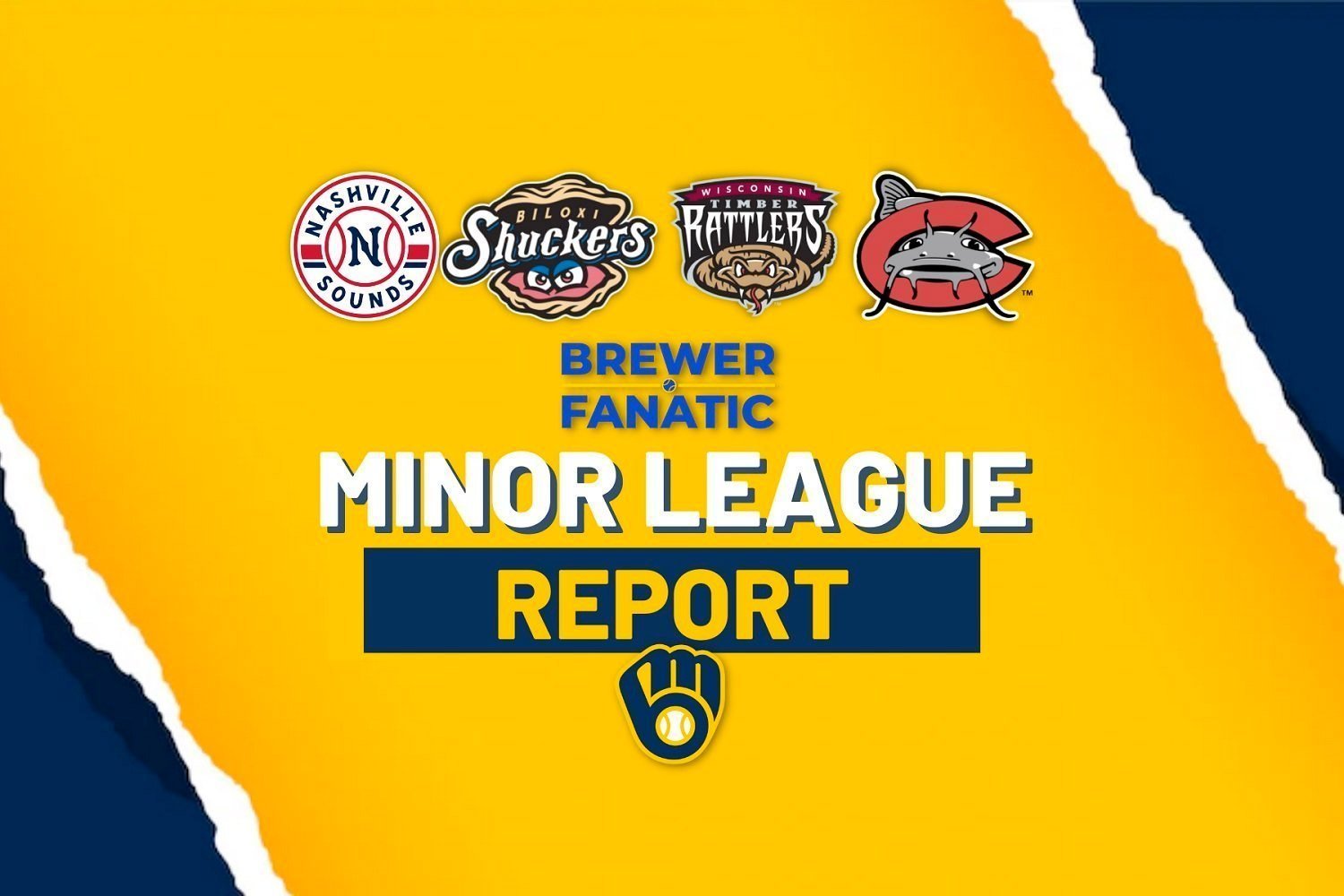 Image courtesy of BrewerFanatic
For the week, the Sounds won their series five games to one, winning the 10-team International League's West Division title by two games. And for the 2023 season, the Brewers' four full season minor league affiliates went a combined 291-251 for one of the top organizational records across the baseball landscape.
Transactions:
RHP Ryne Moore released - the Brewers' 18th round pick in 2021, Moore started 12 of 13 games in the 2022 season (4.41 ERA, 1.22 WHIP, 8.8 K/9 in 65 1/3 IP), split between for Low-A Carolina and High-A Wisconsin, but then missed the first three months of the 2023 season with an injury. He ultimately returned to throw 18 innings for the ACL Brewers over seven weeks (4.50 ERA, 1.94 WHIP, 3.0 K/9). We hope that Mr. Moore is back to 100% health and wish him luck wherever his career takes him.
Game Action:
Final: Nashville 8, Jacksonville 4
Box Score / Game Log
Via the Sounds' website, game details, and we encourage readers to review the affiliate write-up as part of their Link Report routine: Rick Sweet Becomes Winningest Sounds Manager With Triumph in Season Finale
The Sounds rewarded 6,689 Nashville fans who wisely chose to spend a lovely 80-degree Sunday at the ballpark, rather than at home watching their football team get smoked, scoring in four straight innings to turn around an early deficit.
Rehabbing opener LHP Aaron Ashby struggled to find the zone (35 pitches, 16 for strikes – 3 walks to 7 batters faced), but the defense limited the damage via a 1st inning double play and C Payton Henry (1-for-4, HR, 3 RBIs) throwing out an attempted basestealer in the second frame.
Still, the team trailed 3-1 in the bottom of the 4th inning before 1B Abraham Toro (2-for-4, 2 doubles, RBI), extended his on-base streak to 41 games (including time in MLB) with a one-out double, right fielder Chris Roller (2-for-3, HBP, RBI, 2 SBs – will we re-sign him this offseason?) was hit-by-pitch and Henry extended his at-bat to a full count before launching his 424-foot, three-run blast for Nashville's first lead. 
We don't have details on why center fielder Jackson Chourio (1-for-2, double in his first AAA action in center field) exited after the 4th inning, but we can say that replacement Monte Harrison immediately made his mark by smacking the first strike he saw for a solo homer and a 5-4 lead in the bottom of the 5th inning. Like Roller, Harrison will also be a minor league free agent. 
Sounds' Extras:
Eight Sounds' players collected hits in the win and six men had at least one RBI in a true team victory. Of course, 3B Tyler Black got in on the fun with a double and a single to extend his hitting streak to 14 games. The offseason excitement will be off-the-charts for Chourio, Black and LHP Robert Gasser, and rightfully so!
On the mound, it was also a team performance, with RHPs Janson Junk and Luis Contreras (Win) capably combining on six innings: 2 ER, 6 H, 2 BB, 6 Ks, with Junk stranding one inherited runner and Contreras (who's eligible for free agency) earning the Win. RHP Tobias Myers (2 IP, 0 R, 0 H, 0 BB, 4 Ks) then blistered through the final six batters, throwing 18 strikes in 21 pitches in his second AAA appearance of the year, touching 96.1mph.
The Brewers are off on Monday, so we'll likely need to wait until Tuesday to see if it's time for Joey Wiemer (0-for-2, walk, SF, RBI - played left field in this game) and/or rehabbing Garrett Mitchell (2-for-5 as DH) to return to the MLB roster, at the minimum for late inning defense and pinch running. 2B Owen Miller (0-for-4) and Toro will also be hoping for recalls, while the team may find a way to select catcher Henry's contract to keep him around for catching depth.
On behalf of the Minor League Link Report Crew (@Mass Haas, @Joseph Zarr), thank you all for diligently following along the 2023 journey. It's been a hectic, win-fueled campaign, with two playoff teams (Carolina Mudcats, ACL Brewers) and three other squads nearly grabbing a berth. Thanks as well to the media teams from each and every club (e.g. Jeff Hem, Javik Blake, Chris Mehring, Kyle Lobner, Greg Young & Co.), as well as the players and coaches for the availability and day-in, day-out effort.
Now enjoy the MLB playoffs! Go Brewers!!!
Organizational Scoreboard including starting pitcher info, game times, MiLB TV links, and box scores
Current Milwaukee Brewers Organization Batting Stats and Depth
Current Milwaukee Brewers Organization Pitching Stats and Depth
2