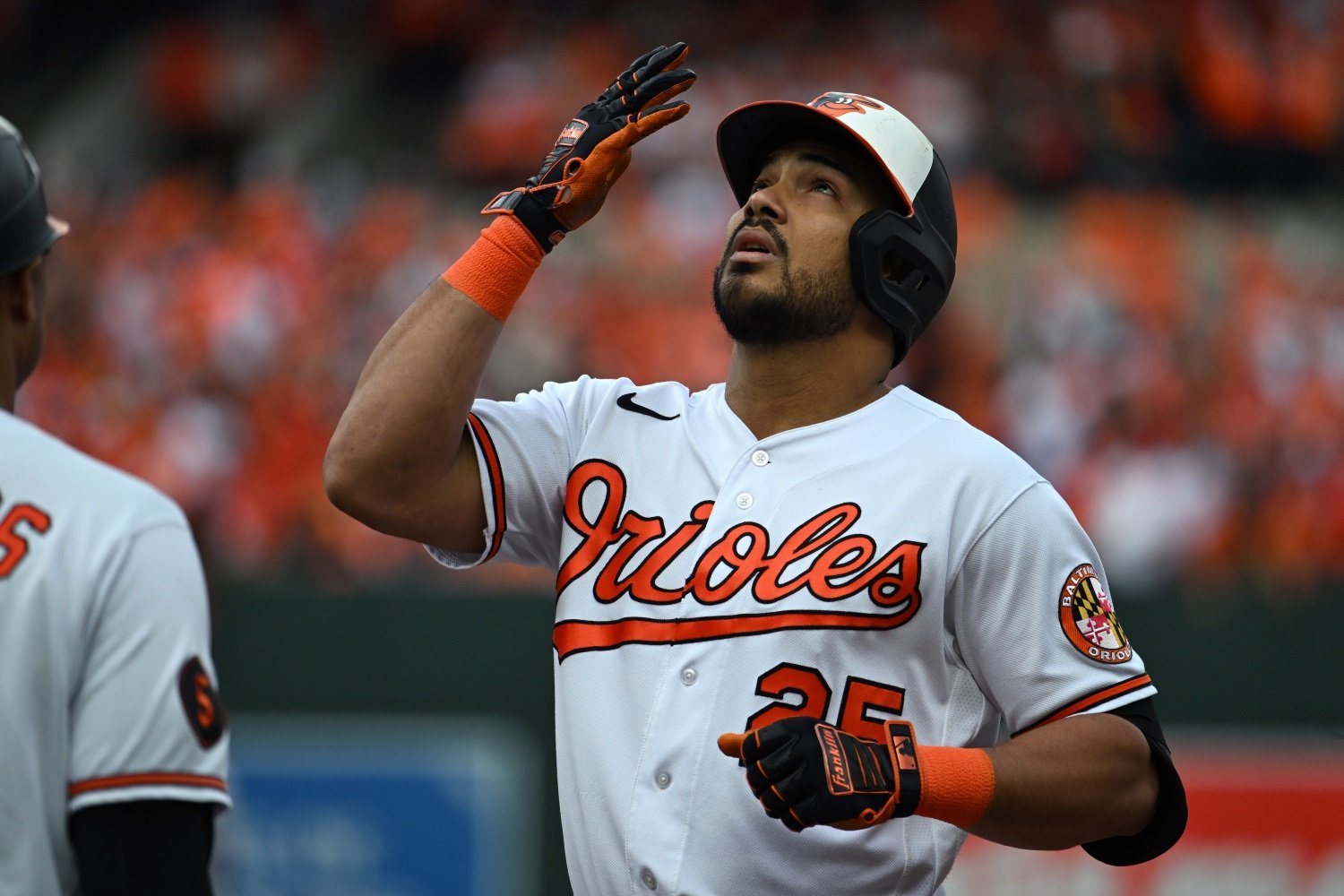 Image courtesy of © Tommy Gilligan-USA TODAY Sports
There are several ways the Brewers and the Baltimore Orioles can fit together well on a trade this winter. Coming off a 100-win season that only led to a disappointing Division Series ouster, the O's will be looking for ways to further shore up their roster for the long slog back through the AL East in 2024. The Brewers, as we know, need to augment their offense, and they almost certainly need to make those improvements at first base, third base, and/or in right field.
That's the single area of their roster where the Orioles seem to have the greatest likely surplus from which to deal. They probably aren't inclined to put overweening confidence in Ryan O'Hearn at first base, even after his surprisingly productive campaign as a platoon bat there, so he could be had at a low price. The Brewers have had good luck with players who share O'Hearn's basic profile in recent years--guys who hit for power, but don't show the requisite patience from the left side. Still, he would feel like a low bid on upgrading at that position.
More exciting and more expensive would be guys like Anthony Santander, Austin Hays, or Ryan Mountcastle. Santander and Hays have one and two years of team control remaining, respectively, so neither would be a long-term solution for the Crew, but they became two of the most important cogs in the productive Baltimore machine this year. Santander played the first 72 innings of his career at first base in 2023, and that might be his permanent defensive home soon. He, unlike O'Hearn, should hit more than enough to be worth regular playing time, even at that demanding position. Hays is a very good righty bat, but just limited enough in the outfield to make him an imperfect fit for the Milwaukee roster; he and Christian Yelich could be redundant.
A challenge trade of Santander and more for Corbin Burnes would be awfully intriguing, but it probably wouldn't work. The Brewers would want something substantial beyond Santander, and the Orioles would balk at giving up much of anything else. Burnes would be a seamless fit into the Orioles' porous starting rotation picture, though. In a deal involving him, the Brewers' plan ought to be to aim higher.
In this case, 'higher' means Coby Mayo. The funky-swinging, gawkish corner infielder is almost big-league ready, but Baltimore probably doesn't have an immediate opening in their lineup for him. Mayo hit 29 homers and maintained an OBP north of .400 in the two highest levels of the minors this season, and although his size and athletic profile both indicate his home will eventually be first base (not third), he could be a middle-of-the-order threat for the Crew well before the All-Star break. 
Naturally, though, Mayo isn't available for Burnes, alone. The Brewers would have to kick in someone to help the Orioles fill in other holes and maintain their depth, in order to get this deal done. That's how the trade value of an impending free agent works. After Milwaukee acquired Chris Roller in August and added him to the 40-man roster this month, they have the spare parts to make it all work. Joey Wiemer, Garrett Mitchell, Tyrone Taylor, and Blake Perkins all have a chance to be the right piece to round out a trade. Which one it could be depends on how quickly the Brewers think they can bring along Jackson Chourio from here; on how much the Orioles are willing to spend to put down the roots of a new dynasty; and on the other options they end up having to bolster their rotation. 
The Brewers need a hitter, though. The Orioles have them. If Milwaukee's spending is as limited as we expect it to be, they won't be able to fill all their principal needs via free agency. This is a line of trade discussion the team will need to keep open throughout the hot stove period.