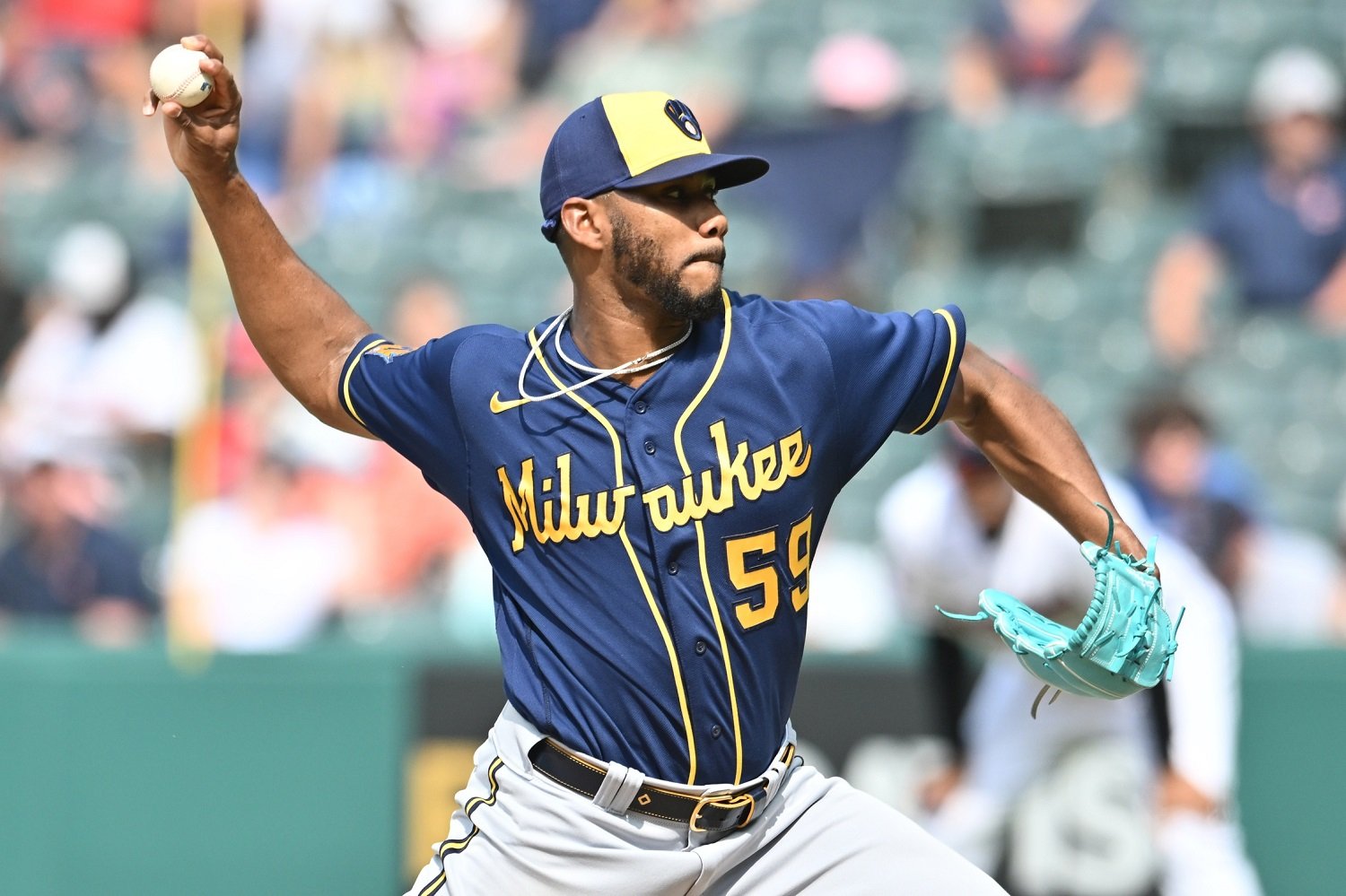 Image courtesy of Ken Blaze, USA Today
Following the surrender of back-to-back home runs in the seventh inning of what became an eventual 7-3 loss to the Colorado Rockies, some Brewers fans are wondering why Elvis Peguero is still being sent out to handle late innings when there is a narrow lead and Abner Uribe is in Milwaukee.
The Peguero Track Record
On the one hand, Peguero has been quite solid in the bullpen for the Crew this season. He is 2-4 with a 3.86 ERA in 46 2/3 innings pitched with 18 walks and 41 strikeouts. He has secured one save and 15 "holds" along the way. That's not a horrible performance, and Peguero is relatively cheap through 2026, and doesn't become a free agent until three years after that.
On the other hand, there are four blown saves, three of which have come since July 22, two came in the span of eight days. The last two blown saves, against the Nationals on July 31 and the Rockies Tuesday, arguably have made it harder for the Crew to maintain their lead in the National League Central over the Cubs and Reds.
This isn't to say Peguero is a liability, far from it. He was quite good through July 21. But the 17-day stretch from July 23 to August 8 has been far different. In eight appearances, he has pitched 7 2/3 innings, given up eight runs (all earned). He has allowed three home runs and blown three saves, all of which led to losses.
To put some more perspective, prior to that 17-day stretch, he had only given up one home run and 13 runs (12 earned). This stretch has shown that Peguero may need to either make some adjustments in a lower-leverage role or to have a mental "reset" after a rough stretch.
It's not like the Brewers don't have other options for the seventh inning. One of these options, the aforementioned Abner Uribe, would arguably be an investment in the team's long-term future. Let's look through them really quick.
Abner Uribe 
Uribe is probably the top candidate to bump Peguero, either directly in the seventh inning, or by sliding Joel Payamps from the eighth inning to the seventh. Uribe has been a Brewer Fanatic Top 20 prospect with electric stuff that points to a potential future as an MLB closer. He has also been red-hot in the majors, posting a 1.54 ERA with a 1.03 WHIP so far. If Uribe is a future closer, he should be working high-leverage situations at the MLB level – and a one-run game against the Nationals is not a bad place for him to start doing so.
There is another benefit to having Uribe take over a late-inning role, whether by directly replacing Peguero or bumping Payamps to the seventh. It could enable the Brewers to consider dealing Devin Williams in future seasons, allowing Uribe to take over the ninth inning. The return on Josh Hader wasn't overwhelming, but dealing Williams could bring a nice package of prospects (or MLB players) in return, just as the team ultimately turned Hader into William Contreras and Robert Gasser .
Hoby Milner
Milner has not flashed the overpowering stuff that Uribe has, but over the entire 2023 season, he's posted a 2.17 ERA in 52 appearances covering 45 2/3 innings pitched. That is a remarkable track record of consistency. If a one-run lead was too tight for the rookie, Milner certainly has made the case that he should be the primary guy in the seventh inning when a starter doesn't handle it.
Andrew Chafln
Yes, Chafin struggled as well Tuesday against the Rockies, but at the same time, the Brewers dealt Peter Strzelecki for him at the deadline. If you're going to deal a relatively cheap reliever with multiple years of control for another reliever, then perhaps that reliever should be put in the high-leverage spot.
Overview
Elvis Peguero has been a valuable pickup for the Brewers from the Hunter Renfroe trade. His recent rough patch is something that can happen to any reliever (just look at Josh Hader in 2022), but he could rebound and be solid. That said, if the Brewers are looking for a title, it may be time for the team to either go with the steady Hoby Milner or future closer Abner Uribe – at least for the time being.
If you were in charge, how would you handle this situation?