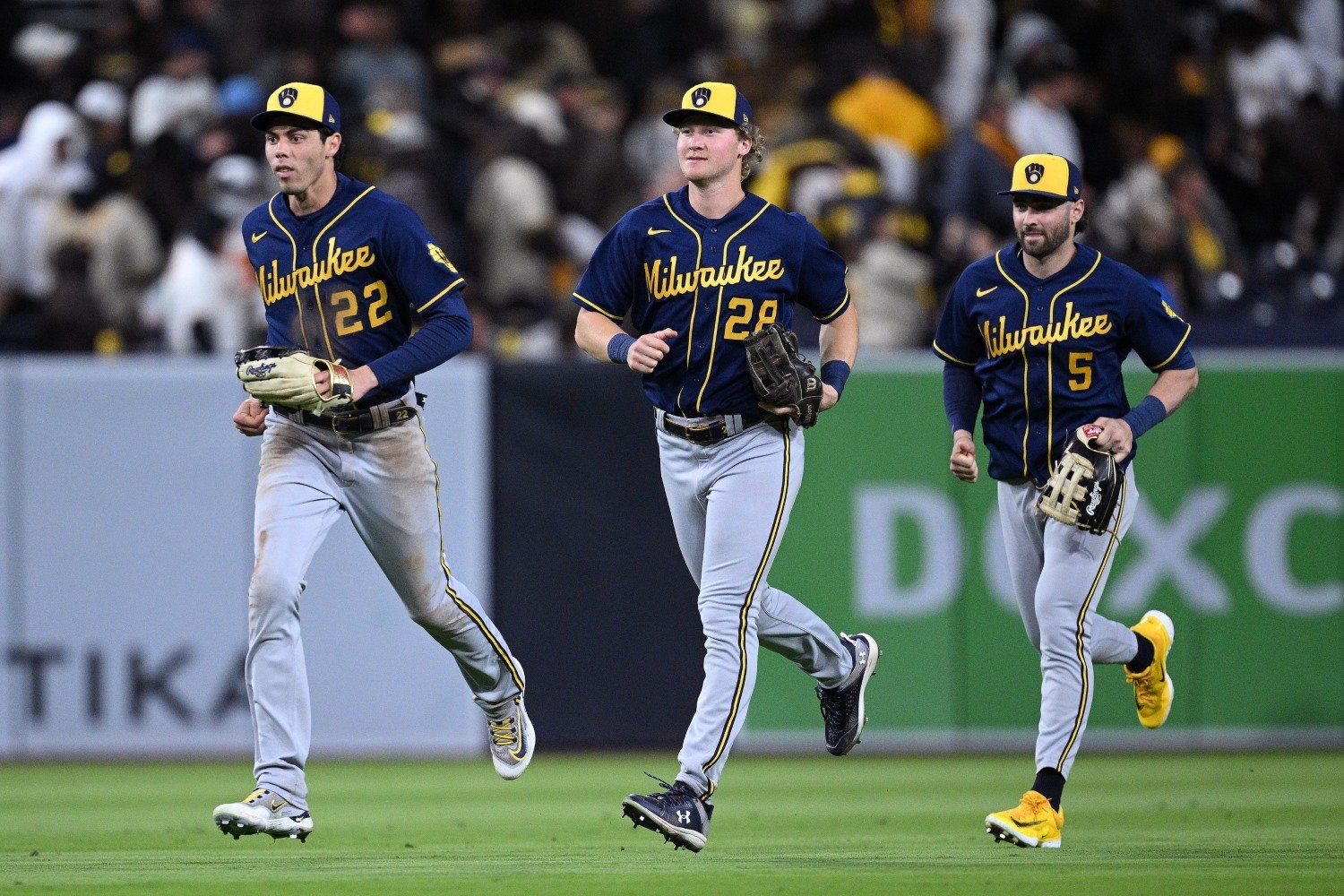 Image courtesy of © Orlando Ramirez-USA TODAY Sports
Of the Brewers' first 113 games this season, Joey Wiemer played in 108. Sometimes, it was as a pinch-hitter, and sometimes, it was as a defensive replacement, but Wiemer played more often than not until early August. His defense covered most of the value shortfall created by his uneven offensive performance, and Craig Counsell hid him at the bottom of the lineup, anyway. It was working, albeit imperfectly. The Brewers were a first-place team.
Around the start of August, though, a confluence of things upended Wiemer's firm footing in the lineup. Firstly, he fell into yet another offensive slump, and he hasn't yet come out of it. Secondly, the team called up Sal Frelick, who joined the outfield picture and immediately demonstrated a comfort with center field that made the toolsy but raw Wiemer look a bit less dazzling. Thirdly, Matt Arnold acquired Carlos Santana and Mark Canha, creating a slow squeeze on playing time at designated hitter and in both right and center field. 
Since August 8, Wiemer has just 29 plate appearances, spread across 15 games. He's struck out nine times, walked three, and is batting .154/.241/.154. He's gotten few opportunities and made nothing of them. In his only attempt to steal a base, he was thrown out. Like Brian Anderson, he's rapidly becoming more of a technicality than an asset. Like Anderson, he's on the roster, but Counsell seems to have no use for him.
A fourth shoe is preparing to drop on Wiemer, too, because both Blake Perkins and Garrett Mitchell are working their way back from injuries. Neither is in position to join the Brewers again imminently, and Mitchell is probably going to end up as nothing more than a pinch-runner at the tail end of the season. Still, the two make Wiemer marginally more redundant, and you can almost feel Counsell longing for the tactical weaponry that Mitchell could provide, or the steady defense and versatility Perkins gave him before straining his oblique last month.
It's not controversial to say that both Perkins and Mitchell have crept past Wiemer in the esteem of Counsell, and perhaps of the front office, too. Because of the nature, scale, and timing of their injuries, though, neither is a sure thing to be available at any particular point. Thus, Wiemer keeps his roster spot for now, and has a pretty fair chance to retain one even through the end of the season. He could very well be on a playoff roster for the team, so they have to keep him ready. At this point, though, the coaching staff seems dedicated to the idea that he'll make that preparation outside the spotlight, the pressure, and the high stakes of the pennant race.
The Brewers are lucky to have such good depth in the outfield, organizationally. That Mitchell could be sidelined for so long without the team hurting even worse than they did is a testament to their drafting and their player development. As tough as Wiemer's rookie year has been, he's shown flashes of several valuable skills, and if he can smooth the rough edges of his game both at bat and in the field, he can still fit in as the fourth outfielder even on what figures to be a loaded outfield roster. Alternatively, he might make fine trade bait this winter.
In the short term, however, Wiemer can do little more for the 2023 Brewers, if only because Counsell believes as much. At this stage, if either Perkins or Mitchell can get healthy, Wiemer is the guy whom it makes most sense to send back to Nashville, there to await any openings created by injury over the final few weeks. If Counsell won't use him and he doesn't have the confidence or the well-roundedness to force the manager's hand, Wiemer has no business on this roster. Some teams have found shorter rotations of position players with whom to work, and can afford to treat one or two spots at the end of the bench as spare parts. The Brewers aren't built that way, and they need greater utility out of every spot than Wiemer provides in the one he occupies right now. It's just that, unless and until they get a bit healthier, the team has nowhere to send their mullet-rocking rookie, and no better alternative to him.
Think you could write a story like this? Brewer Fanatic wants you to develop your voice, find an audience, and we'll pay you to do it. Just fill out this form.
MORE FROM BREWER FANATIC
— Latest Brewers coverage from our writers
— Recent Brewers discussion in our forums
— Follow Brewer Fanatic via Twitter, Facebook or email