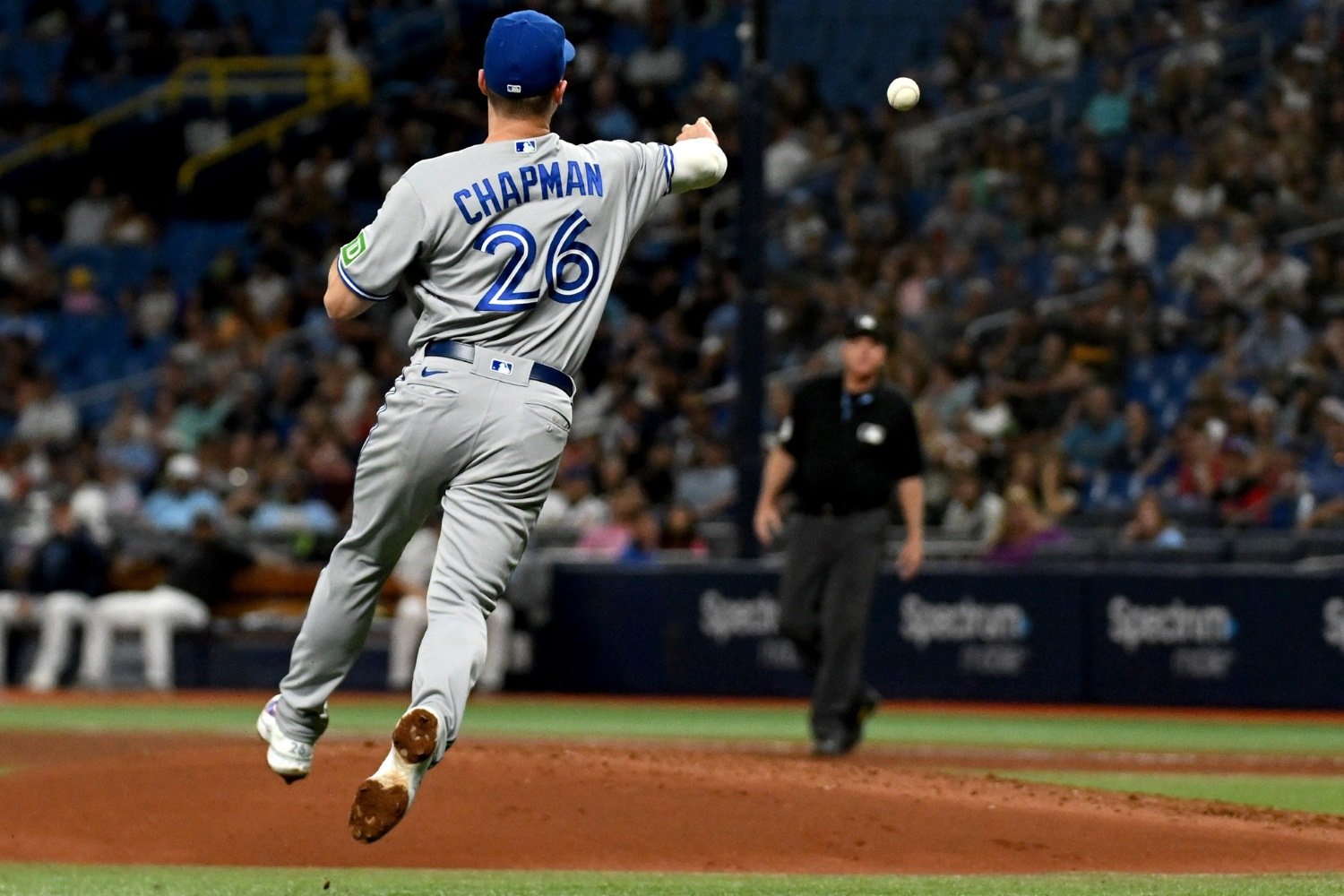 Image courtesy of © Jonathan Dyer-USA TODAY Sports
We've already broken down the talents and the fit for 45 MLB free agents. If you've missed all of those, feel free to go back and check them out, and to weigh in on the placement of any of them.
Nos. 41-50
Nos. 31-40
Nos. 21-30
Nos. 11-20
Nos. 6-10
Now, let's turn our attention to the biggest fish in the sea.
5. Eduardo Rodríguez, LHP
After opting out of the final three years of what was a five-year agreement with the Tigers, Rodríguez hits the market looking for a fourth or even fifth year, again. If the bidding goes much beyond what he got from Detroit in the first place ($77 million over those five seasons), he might be out of the Brewers' price range. I don't expect that. If anything, I can imagine Rodríguez coming in slightly below that last deal, and at that level, he'd be an excellent piece for the middle of the rotation.
Rodríguez has a deep arsenal, and it works in some unexpected ways. He can attack both sides of the plate with a cutter that sets up pretty much everything else he throws. He has a sinker that he likes to steer inside on right-handed hitters and away from lefties, which is the opposite of the way most pitchers use that offering. While his strikeout stuff is more good than great, and while his command fluctuates (just as every pitcher's does), Rodríguez is a solid starter who can work deep into games. There's also a good chance that Chris Hook would help Rodríguez put together some of the pieces that haven't quite coalesced into a top-of-the-rotation whole since 2019.
4. Marcus Stroman, RHP
The second half of the season got away from Stroman. He suffered a hip injury, tried to pitch through it, and seemingly aggravated it while on the injured list. Before July, though, he was on track to compete for the Cy Young Award. Stroman's success is even more dependent on command than is that of Rodríguez; he doesn't have great velocity or a single pitch that dominates opposing hitters. Often, though, he's able to pinpoint his sinker so well that it sets hitters up for everything else, and he induces a series of weak ground balls. 
Tinkering is a bit of a problem for Stroman. His self-confidence is so complete that he sometimes lets the perfect become the enemy of the good, chasing the tweak that will make him fully and lastingly unhittable rather than embracing a simpler, more repeatable approach to opposing lineups. Still, when he's healthy, he's a solid second option in any rotation, and he and Freddy Peralta would grow and learn together well.
3. Seth Lugo, RHP
Moving from the bullpen to the rotation is much less common than the opposite conversion, but Lugo managed it deftly in 2023. He's always sported an impressive combination of high-spin fastballs and curves, but he finally found an adjustment to his changeup that made it more consistently effective. With an overhand arm slot, Lugo has always had the opportunity to build an offspeed pitch that works vertically, rather than fading to the arm side, but he'd never tapped into that potential until this past season.
Lugo is less of a brand name than Stroman or Rodríguez, but he's almost equally good, and his price tag figures to be much lower. This is the kind of move that would sneakily move the Brewers forward, by giving them depth and a bridge to the pitching prospects they hope are the future of the organization. Lugo could help them compete in the short term, and getting good value from him could ensure that the team remains competitive in the long term.
2. Rhys Hoskins, 1B/DH
With Brandon Woodruff hurt and no longer a part of the organization, starting pitching is an area of need for the Crew. Hence the names above. Their more urgent and major need, though, is for help at the infield corners, and Hoskins is the ideal fit for one half of that. Coming off a season lost to a torn ACL, the erstwhile Phillies slugger not only seems not to have a place in the lineup with his long-time team, but didn't get a qualifying offer from them on the way out the door. That's because they knew he would take it, and they prefer to play Bryce Harper at first base in 2024.
Now that Hoskins is on the market, though, it's not quite as clear that he's looking for a one-year deal as some might assume. Sure, he would be able to rebuild his value after the injury took away what he hoped would be his platform season, but he would also subject himself to the qualifying offer next winter, since he didn't receive this one. Instead of doing that, he could be open to something more like the deal Michael Conforto signed with the Giants last winter: two years, with the player having a right to opt out after the first one. 
Hoskins has tremendous power, and his patient approach yields a consistently strong on-base percentage. The injury makes it hard to project him, because hitters do need their lower half to generate the drive on which big power depends. His defense might also not be everything it was before he got hurt. Still, he's solidly above-average at the plate, with 30 home runs as the baseline of his profile. He'd be an excellent cleanup hitter.
1. Matt Chapman, 3B
If you think Hoskins is unpredictable in the batter's box, get a load of Chapman. He had a 1.152 OPS in April, and it looked like he was on track for a $200-million contract. From May 1 on, though, he batted .205/.298/.361--production the Brewers could get from Brian Anderson, if they could just wipe his memory of 2023 and get a fresh start with him. In 2018 and 2019, he was well above average, but since then, he's been essentially average. He flashes very good power, and he's not without a hit tool or some plate discipline, but the puzzle pieces haven't fit together over a full season in quite some time.
The saving grace with Chapman, and the reason why he's still a premium free agent after five months of offensive struggles, is his defense. If he's not the best defender at the hot corner in MLB, he's in the top three. He'll turn 31 next spring, but third basemen often age well with the glove. Last season, the Brewers' success depended greatly on their defense, which was one of the best in baseball. Adding Chapman to the infield phalanx would lock in that team strength for the longer term.
In franchise history, the only megadeals the Brewers have signed have been with guys who were already members of the organization, like Christian Yelich and Ryan Braun. Chapman's value took a hit when he slumped at the plate for such a long time, but he could still earn a nine-figure deal. That's the big hurdle here. If the Brewers want to lock in an important piece of the batting order and the infield defense for the long term, though, they'll have to go a bit outside their comfort zone. Chapman is the sweet spot, and the Brewers should stay engaged until he signs.
That's the end of this long countdown. Let's discuss it. Who's too low on the list? Who's too high? Very soon, we'll start to see guys like this sign, and find out whether the Brewers agree with this rough relative valuation or not.
Think you could write a story like this? Brewer Fanatic wants you to develop your voice, find an audience, and we'll pay you to do it. Just fill out this form.
MORE FROM BREWER FANATIC
— Latest Brewers coverage from our writers
— Recent Brewers discussion in our forums
— Follow Brewer Fanatic via Twitter, Facebook or email