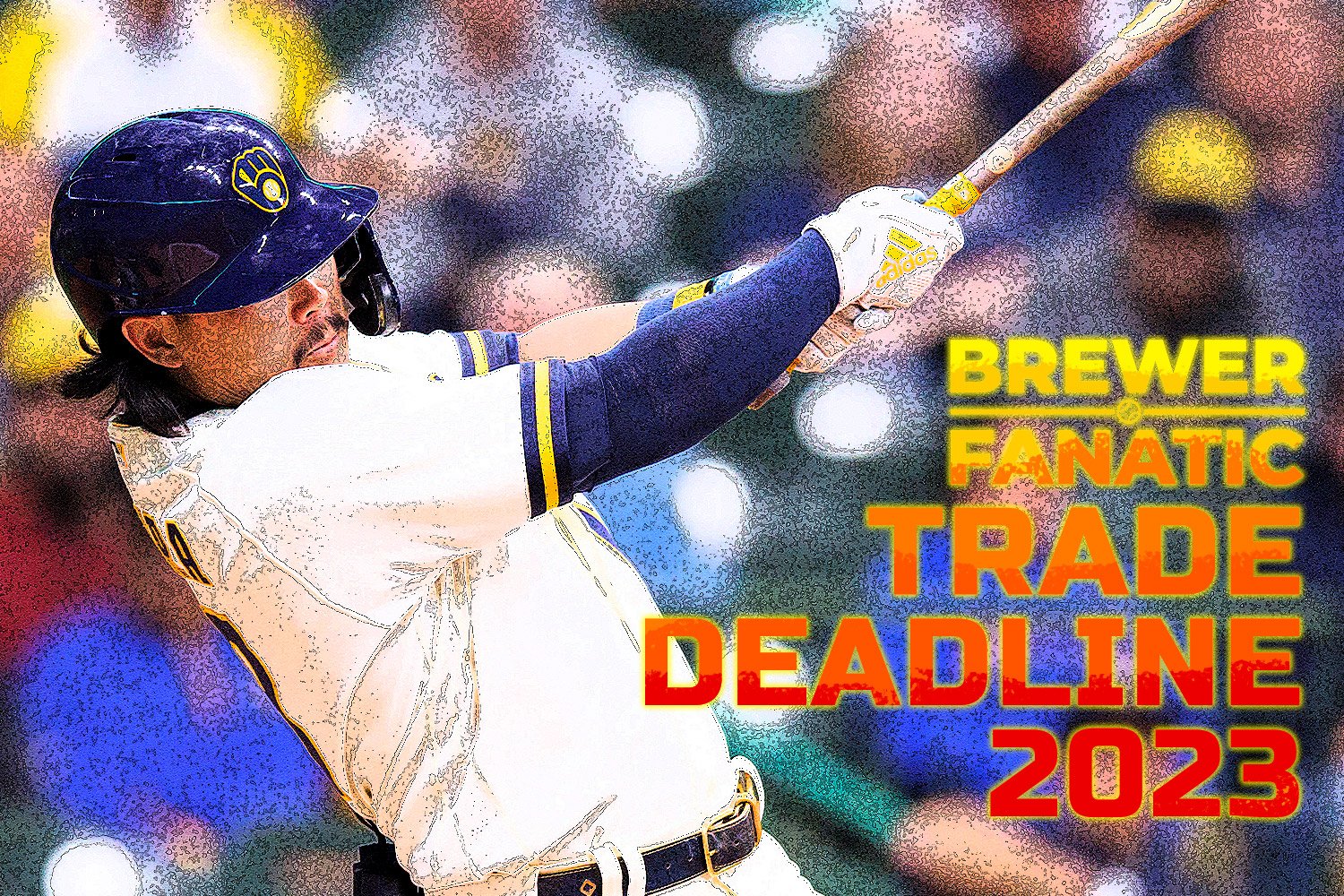 Image courtesy of Brewer Fanatic
One thing we have seen this year is the way in which young, prospect-filled teams have taken the bull by the horns and run with it in the form of the Diamondbacks, Orioles, and even the Reds. There's a definite bounce after Sal Frelick's promotion, and could there be more of this on the way?
First base expects an average production of 114 WRC+ going by the league-wide production value, so it should be the home of a big bat. Recently, the Brewers have been experimenting with Owen Miller, who, despite the eye test, has been a very solid defensive glove due to his added range and seems to be getting better each day. However, his production dropped further in July, hitting .194 with a 26% strikeout rate and just three extra-base hits. It's clear that the Brewers need more from this spot, but if there aren't options here, where else could they escape Jesse Winker's shadow?
Victor Caratini
Caratini showed last year he has a relatively decent offensive profile until overplaying at the catcher spot caused his stats at the plate to tumble after June, struggling in the second half of the season (understandably so) due to Omar Narvaez's injury. Over the last month, he has a .788 OPS, looked both more mobile than Tellez and better at picking balls than Owen Miller when he filled in, and is a switch hitter, something Counsell loves. So far this season, Caratini has a .746 OPS against right-handers, albeit struggling a lot more against lefties, and could be part of a platoon with Owen Miller, who's been one of the better hitters against left-handers and has at least shown glimpses of the quality contact hitter he was in May over the last couple of weeks.
In all likelihood, this solution is being saved for the next few weeks until the trade deadline passes or until Tellez returns, hoping he finds his power-hitting form for a couple of months.
---
Keston Hiura
Hiura currently has a 12-game on-base streak going down in AAA Nashville. Still, he hasn't looked the same player pre-injury yet, with a noticeable lack of the quality contact and exit velocities he was putting up earlier in the season and much of the streak being fueled by a propensity to be hit by pitches. As much as I'm a fan of Hiura's bat, particularly at DH, it feels unfair to bring him up when he's not ready. His injury earlier in the season came at the most unfortunate time, given his regular dropping of his strikeout rate and home runs almost every other night at AAA. Hiura, at his best, has high slugging numbers. Although he's demonstrated just a 23% strikeout rate in July, with a .449 OBP, he's still just slightly off, producing a .864 OPS in that time which sounds decent but is the minimum you'd expect from a MLB hitter in Triple-A this year. He's not far off, and it could be something similar to Frelick, where it just clicks, and in a week, he's up with the the big boys again.
Another thing, although a small sample size, is he's hitting left-handers better than right-handers so far this season with a 1.034 OPS against southpaws. His total elimination of a leg kick seems to have addressed his swing and miss at the top of the strike zone. Should the Brewers give him a shot? Even one hot month of Keston Hiura could make a huge difference to the Brewers, who are struggling for power numbers of late.
---
Abraham Toro
Toro has been filling in at first base as of late, and after a rough debut, he's shown a lot of range, a nice glove over there, and his bat has been HOT. After another double on Sunday night, he's hitting .385/.446/.708 in July for the Nashville Sounds with three home runs and a double.
He's absolutely raked in the minors before, notably before his call-up with Astros in 2019, as he destroyed AA and AAA before forcing a promotion and slumping. He's not a power bat by any means, but he can clear the fence and provides good regular contact quality, with an 18% strikeout rate in his last month. Incredibly unfortunate BABIPs have fueled his major league efforts to date, and it could be that he's first in line for a chance given how often he's been playing at first base compared to Keston Hiura, who's more often seen manning left field.
As mentioned before, Counsell loves platoon matchups and therefore switch hitters. Toro's versatility to fill in almost anywhere in the infield would give him an edge over some of his rivals. Unless Luis Urias kicks off, he may also be in line should there be more problems at the hot corner.
Could Toro provide something above and beyond what the Brewers are currently getting, even if it's just until Rowdy returns?
---
Tyler Black
Black has been the best bat in the Brewers system across the first half of the season, even with the sticky balls used in AA early in the season. With a fantastic eye at the plate, solid bat-to-ball skills, and the injection of more power in his game, the question is, could he play against major league stuff and produce similar results?
On top of this, Black currently has 45 stolen bases this season, an incredible number, and his lowest on-base percentage for a month was .394 in May. His control of the strike zone would seem very ready for the majors, and on top of this, he's slugging even more in the last two months, with seven home runs, five triples, and ten doubles since the start of June. He could be a huge spark, but are the Brewers willing to take the risk?
The Brewers seem intent on Black developing as a third baseman, and he has shown dramatic progress in this area over the season, making both routine and more difficult plays now, whereas he was a total liability earlier in the season. They could cut this short and simply DH him (given he's never played first base), but it could cut short his development and potential at the hot corner.
It's also important to note that two very high-profile prospects were brought up to start the year from Double-A in Anthony Volpe and Jordan Walker, who struggled massively initially (Walker has performed better since his demotion). The Brewers can't afford to mess with Black this way or give him a lot of time to work things out at this level.
Do any of these options appeal to the Brewer Fanatics? What do you think the Brewers' deadline approach will be?
Think you could write a story like this? Brewer Fanatic wants you to develop your voice, find an audience, and we'll pay you to do it. Just fill out this form.
MORE FROM BREWER FANATIC
— Latest Brewers coverage from our writers
— Recent Brewers discussion in our forums
— Follow Brewer Fanatic via Twitter, Facebook or email