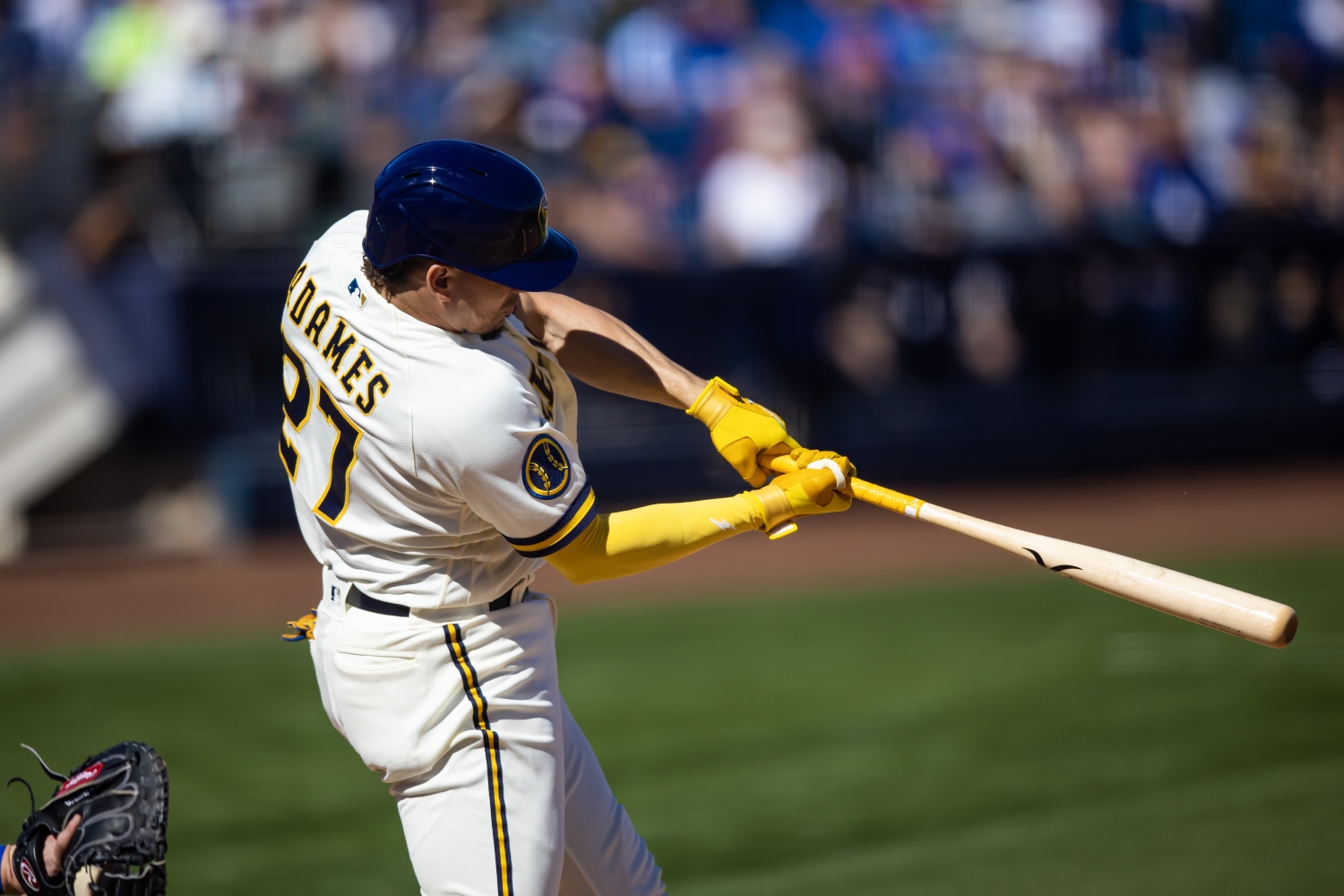 Image courtesy of © Mark J. Rebilas-USA TODAY Sports
If there had been any lingering hope for a price drop on signing Willy Adames to a long-term deal, it disintegrated last week, when Manny Machado signed his 11-year, $350-million extension with the Padres. No, the Brewers aren't using the Padres as their measuring stick, and no, Adames is not Machado, but remember, Adames had already been forthright and public about his awareness of big deals signed by free-agent infielders in recent years. There is a floor for Willy Adames, and it's something akin to what the Cubs paid for Dansby Swanson this winter: $177 million over seven seasons, starting at age 29. 
Willy Adames reiterated he would like to remain with the Brewers long-term. But he also saw the insane contracts doled out to free-agent SSs in the off-season: pic.twitter.com/sfKdfwxkcF

— Todd Rosiak (@Todd_Rosiak) February 22, 2023
Of course, Adames is only 27 right now, and the Brewers could capture some discount by guaranteeing him that kind of deal two years early. It's just that they'd have to guarantee 2024 in the process. In effect, the deal that would bring Adames to the table down in Arizona right now is probably a nine-year contract. He might get a slight bump in his 2023 pay, the big raise he would see in 2024 anyway, and then most of the aforementioned money he could get in free agency. Let's call it $205 million, in total, through 2031. It's possible the team could reduce the guaranteed money to the coward's side of $200 million, by getting the final year of the deal as a club option, but that might also require them to grant Adames an opt-out sometime during the deal.
That's a huge sum, for a player about whom there are still some reasonable questions. Playing a bit banged up at times, Adames did come back to Earth somewhat at the plate last season. He has an offensive approach (many strikeouts, an inconsistent walk rate, an overall profile dependent upon power and BABIP) that tends not to age well, and while his raw range at shortstop is quite good, he's not as efficient about converting his chances into outs as one might like. 
Still, the team needs to do this, and they need to do it now. Fan morale is a small and insufficient reason to make this kind of investment, but at the moment, it's a valid consideration for the club. More importantly, though, there were those big deals that were handed out this winter–to Swanson, Trea Turner, Carlos Correa, and Xander Bogaerts, and to Machado. Those are market-setters, and thanks to next winter's thin free-agent crop, they'll still be the relevant comparison points if Adames is allowed to reach free agency.
There's one more crucial reason why Adames needs to sign now, though, and it's not a nine-figure contract. Rather, it's the Dodgers' newfound thirst for a shortstop. Gavin Lux's injury means that that team will need a shortstop. They probably won't go get one right away, preferring to let Miguel Rojas man the position. By midseason, though, if they intend to keep pace with Machado's and Bogaerts's Padres, they're going to be making calls. Adames is going to be the best shortstop even remotely available at that stage.
If the Brewers are a fringe Wild Card contender when that time comes, Arnold is going to end up trading Adames. That's just the reality of the team's way of doing business. Trading Josh Hader last July was just one example of their ruthless fealty to value. The Dodgers, with a perpetually deep farm system and the big-league depth needed to make their youngsters expendable, will offer Arnold a lot of value. They can really help the Brewers sustain their pipeline of young pitching. They have toolsy outfielders to burn.
Here's the thing: the Brewers have great pitching and very toolsy outfielders. They've become stunningly good at churning out the former, and they're at a high point in the tide cycle with the latter. This team can be together for another few years, with the greatest responsibilities slowly migrating from the likes of Christian Yelich and Corbin Burnes to those of Jackson Chourio and Aaron Ashby. They acquired a catcher they hope will be an anchor in the middle of the diamond for years to come.
What they don't really have, either on the MLB roster or in their system, is an excellent power-hitting shortstop. If they trade away the one they have and don't get a similarly rare player in return, Arnold and his reshaped front office will have created a big and difficult job for themselves, rather than making anything easier. Only signing Adames to a big deal now can help him avoid that long temptation, though. 
One of these days I'm just gonna make a full Adames highlight reel of great shortstop plays.

I love watching him play the position. pic.twitter.com/GbDWIIHQ86

— Dominic Cotroneo (@Dom_Cotroneo) September 15, 2022
That's not to mention Adames, the person. He's an extraordinary leader, an easy face for a franchise, and someone who can keep the clubhouse bilingual, communicative, and upbeat. He's the guy for whom you overspend a bit, if it makes the difference between having him and not having him.
Think you could write a story like this? Brewer Fanatic wants you to develop your voice, find an audience, and we'll pay you to do it. Just fill out this form.
MORE FROM BREWER FANATIC
— Latest Brewers coverage from our writers
— Recent Brewers discussion in our forums
— Follow Brewer Fanatic via Twitter, Facebook or email