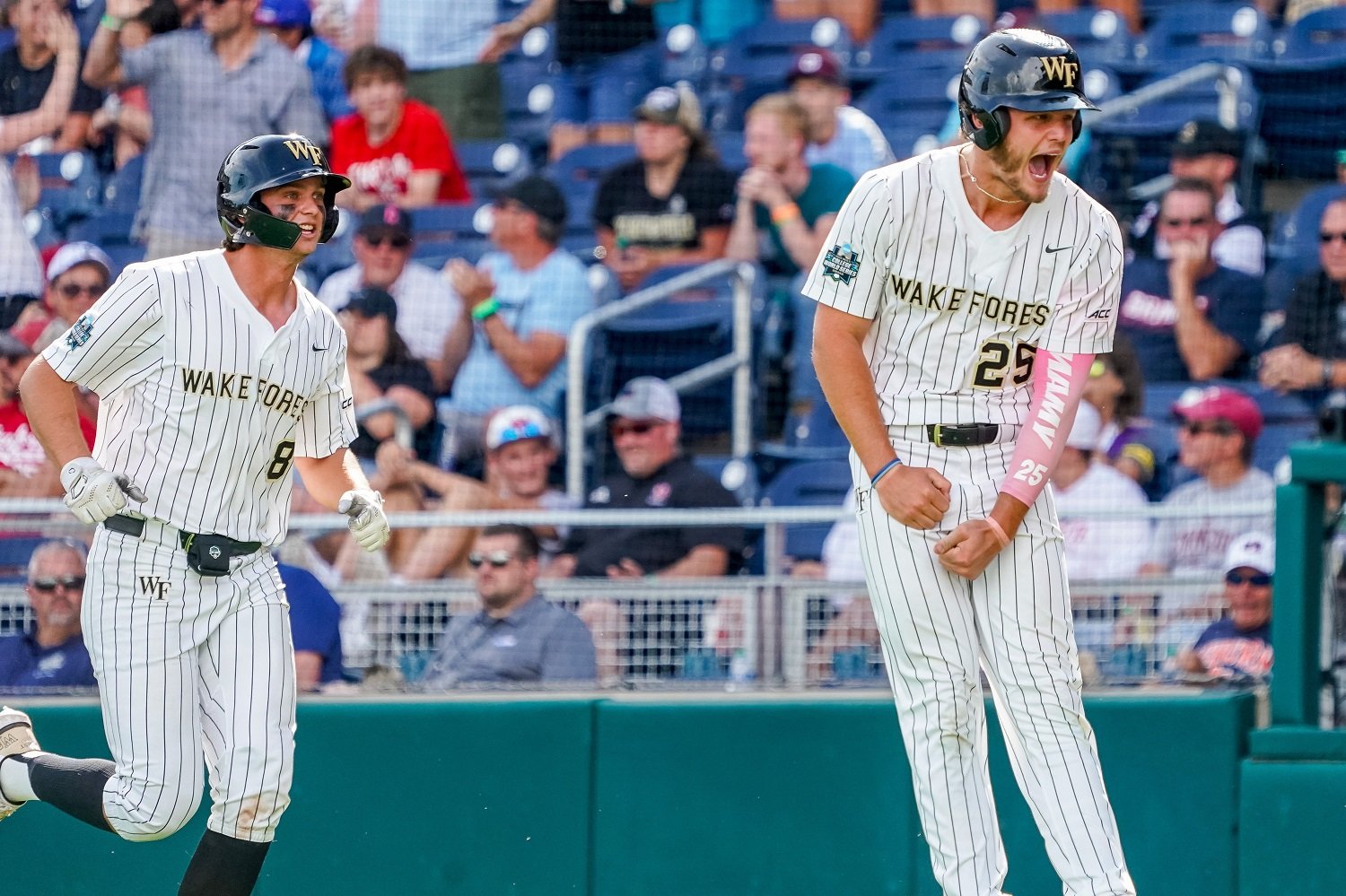 Image courtesy of Dylan Widger-USA TODAY Sports
Today's portion of the draft, which will include rounds 3 through 10, will begin at 1 p.m. CT.
Keep up to date with the Brewers Draft Tracker. 
A quick recap from yesterday:
1 (18) - Brock Wilken, 3B, Wake Forest
21 years old. 6-4, 225. 
Draft Article / Draft Tracker 
1C (33) - Josh Knoth, RHP, Patchogue Medford HS (NY)
17 years old. 6-1, 190.
Draft Article / Draft Tracker 
2 (54) - Mike Boeve, 3B, Nebraska-Omaha
21 years old. 6-2, 210. 
Draft Article / Draft Tracker 
---
3 (87) - Eric Bitonti, SS, Aquinas HS (CA)
17 years old. 6-4, 218. 
Draft Tracker
Bitonti has an athletic profile that's easy to dream on. At 6'5, 215, he's already showing above average power that could be 70 grade when he's done developing. His swing is pretty steep which results in easy power that can come at the expense of contact. Bitonti is long levered and his swing can get long at times. He's played shortstop to date but as a below average runner and lateral mover, he may move to third base or even a corner outfield spot long term. If he puts it all together, he's going to be an impressive power bat as a pro. Bitonti is currently an Oregon commit. - JD Cameron
Draft slot: $872,400
4 (119) - Jason Woodward, RHP, Florida Gulf Coast
20 years old. 6-1, 180.
Draft Tracker  
Draft slot: $557,900
5 (155) - Ryan Birchard, RHP, Niagara County CC (NY)
19 years old. 6-0, 207.
Draft Tracker  
Draft slot: $392,700
6 (182) - Cooper Pratt, SS, Magnolia Heights HS (MS)
18 years old. 6-5, 210.
Draft Tracker  
Cooper Pratt is ranked 58th on the Big Board and as he slipped into the middle of day two, seemed to be headed to college. Jim Callis suggests he's going to need "seven figures... and we're not talking one million dollars" to sign, so this will be an interesting one to watch.
Pratt is a tall, prep shortstop who has been a quick riser up draft boards this year, thanks to at least four above average tools. He has a crouched, right-handed swing that currently has gap to gap power but will likely add home run juice as he fills out more. Pratt has a good combination of a low chase rate and strong contact rates, particularly in the strike zone. Defensively, while not particularly quick, Pratt moves well and should get a chance to prove he can stick at shortstop. Pratt is currently committed to Ole Miss and might be a tricky sign away. - JD Cameron
Draft slot: $309,900
7 (212) - Tate Kuehner, RHP, Louisville
22 years old. 6-1, 195.
Draft Tracker  
Senior-sign. Likely to be a lefty reliever, up to 95 with a decent slider.
Draft slot: $242,400
8 (242) - Craig Yoho, RHP, Indiana
23 years old. 6-3, 2225.
Draft Tracker  
Another senior.
Draft slot: $196,700
9 (272) - Mark Manfredi, LHP, Dayton
23 years old. 6-4, 210.
Draft Tracker  
A senior lefthander with a 6-foot-4, 210-pound frame, Manfredi led Dayton in innings this spring during his second year with the program. He posted a 4.99 ERA over 15 starts and 79.1 innings, with a 27% strikeout rate and 10.7% walk rate. After that strong campaign, he headed to the Cape Cod League, where he pitched well with Wareham in his first three starts and posted a 2.08 ERA over 13 innings, with 16 strikeouts and four walks. Manfredi pitches in the 90-94 mph range with his fastball, which has just average life, though a lower release point via a sidearm slot helped it play up and generate a solid, 25% whiff rate this spring. He pitched heavily off the fastball, but used a slider, curveball and changeup each about 10% of the time to round out a four-pitch mix. His slider is a low-80s breaking ball with short action that he mostly throws to the glove side and looks like his best bat-misser, while his mid-70s curveball is slower with more slurve-like shape and is more of a get-me-over offering. His mid-80s changeup hasn't been much of a swing-and-miss pitch, though he has used it to generate a solid number of weakly hit ground balls. Manfredi could be an interesting senior sign on day three who brings unique release point traits to the table. - Baseball America
Draft slot: $176,700
10 (302) - Morris Austin, RHP, Houston Christian
23 years old. 6-2, 215.
Draft Tracker  
Draft slot: $166,800
---
In the meantime, what did you think about what happened Sunday night? What are you looking forward to on Monday?
Think you could write a story like this? Brewer Fanatic wants you to develop your voice, find an audience, and we'll pay you to do it. Just fill out this form.
MORE FROM BREWER FANATIC
— Latest Brewers coverage from our writers
— Recent Brewers discussion in our forums
— Follow Brewer Fanatic via Twitter, Facebook or email